Tuesday March 21, 2023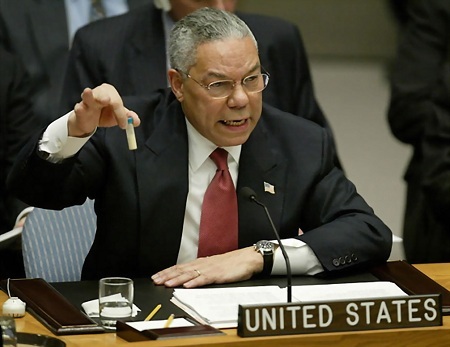 A New York Times Magazine article in July 2020 focused on then Secretary of State Powell and his U.N. speech of Feb. 5, 2003 and the National Intelligence Estimate (NIE) upon which it is largely based. A lot of the detail in the article may have been new to many readers, but not to Veteran Intelligence Professionals for Sanity, which had been established a month before. VIPS watched the speech, dissected it, and sent their verdict to President George W. Bush before close of business that same afternoon

We gave Powell a charitable grade of "C", faulting him for, inter alia, not providing needed context and perspective. We should have flunked him outright.

Robert Draper's article describes how, despite C.I.A.'s strong effort to please, the "case" the agency made for war on Iraq, using such evidence as there was on weapons of mass destruction, was deemed not alarmist enough for Vice President Dick Cheney and other administration hawks.

Specifically, the hawks were dissatisfied with the evidence-light, but-alarmist (term of art used was "leaning forward") Pentagon and White House briefings by CIA Deputy Director John McLaughlin in late Dec. 2002 on WMD in Iraq. The hawks started to look elsewhere, since not all senior officials (including Powell) appeared to be "with the program."
read on...