Friday October 19, 2018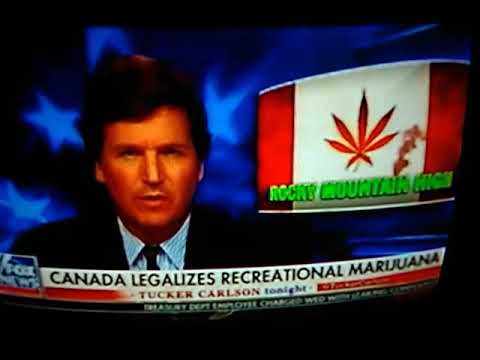 In August, Tucker Carlson declared at his Fox News show that it would be an act of war on the United States for the Mexico government to cease engaging in a war on heroin. Carlson even supported his wacky conclusion by pointing to drug overdose deaths in America, despite those deaths in fact being multiplied because of the US war on drugs. On Wednesday, Carlson was back at his show spouting drug war nonsense — this time expressing his dread of marijuana legalization that kicked in this week countrywide in Canada potentially spreading throughout America.

The nonsense starts in the first words Carlson states in his introduction of guest Mason Tvert of the Marijuana Policy Project. Carlson begins: "Well Canada has become just the second country in the history of the world to fully legalize the sale of marijuana as well as the recreational consumption." The inclusion of the phrase "in the history of the world" gives the impression that prohibition has been the norm throughout world history, from thousands of years BC until Uruguay legalized marijuana sales in 2017. Carlson would need look no further than his own country of America to see the ridiculousness of this suggestion. From the founding of the Unites States government in the 1700s through the early 1900s, the national government did not prohibit the sale or use of marijuana. In fact, it did not prohibit the sale or use of other now-illegal drugs such as cocaine either.

Next up, Carlson dwells on the danger that marijuana "makes people less likely to act" and "more passive." Of course, that is not true across-the-board as marijuana use can help people see things in a new way, leading to innovations in how they act in the future. Think of it as a form of brainstorming aid. It can also serve as rejuvenating relaxation and distraction, as can taking a break from work and chores to listen to music or play a sport. Nevertheless, assuming that Carlson's assessment is correct, it would just as well be an argument for making illegal many other activities, such as watching a TV sitcom, taking a walk, or playing a card game.
read on...