Friday September 1, 2017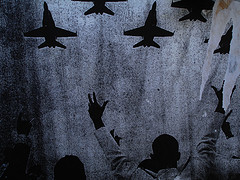 Elected to the Oval Office as a harsh critic of US involvement in costly Middle Eastern conflicts by a war-weary public, The Donald has turned out be just as much of a war president as those who went before. He's ordered the firing of 59 Tomahawk missiles on a Syrian government airfield and dropped the "Mother of All Bombs" on Afghanistan. That's in addition to threatening North Korea and Venezuela and escalating US involvement in the bombing of cholera-stricken Yemen.

The millions of Americans who voted for Trump, hoping he'd be the president to bring the troops back home, have been cruelly disappointed and are certainly feeling betrayed. They shouldn't be at all shocked, however, as American political history shows us a clear pattern.

The sad, inescapable truth is that it doesn't matter who gets elected as president and what they say on the election trail; the policies on the issues that matter remain the same after the inauguration. What the last eight months have proven, to anyone who still had any doubts, is that the US is not a "democracy" that changes course according to the public will, but a full-blown regime, governed by the Wall Street/CIA/Endless War Party which never loses power regardless of how people vote.
read on...