Tuesday July 18, 2017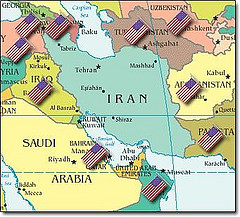 There are signs that a US military operation against Iran is imminent. The administration is pushing Congress for the authority to build new "temporary" facilities in Iraq and Syria. Its policy statement says the armed forces are hamstrung by legal restrictions on the ability to expand military infrastructure in Syria and Iraq. The Trump administration wants the existing authorities that only cover the "repair and renovation" of facilities extended to also encompass "temporary intermediate staging facilities, ammunition supply points, and assembly areas that have adequate force protection."

According to a 2016 Defense Department of Defense (DoD) report, the Pentagon wastes money on maintaining 22 percent excess infrastructure unnecessary infrastructure. The House and Senate Committee versions of the National Defense Authorization Act (NDAA) deny the military the right to spend money on a new round of Base Realignment and Closures (BRAC), making it pay for the real estate it does not need. Now new military bases in the Middle East may be added to the financial burden.

The added flexibility is supposed to boost the capabilities against the Islamic State (IS) but it does not sound credible. After all, the group is already retreating everywhere and the process is unstoppable. But boosting military infrastructure is the right thing to do if the enemy is a strong military power such as Iran. President Trump appears to have decidedly hardline leanings on that country.
read on...