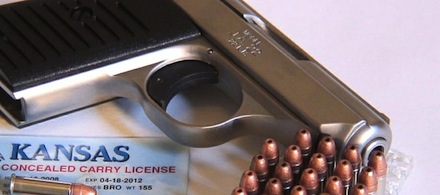 Many people perceive Texas as a bastion of rugged individualism and minimal government. Kansas not so much so. This month both states' governments are moving toward implementing laws removing some restrictions on people carrying handguns. Yet only Kansas is doing so without requiring an individual to take a course, pay a fee, and put his personal information into a government database — perfect for facilitating surveillance — before being able to legally carry a handgun.

On April 2, Kansas Governor Sam Brownback signed into law SB 45. The bill legalizes the carrying of concealed handguns by many people in Kansas without the requirement that they first pay a fee, take a class, obtain a permit, or provide personal information for inclusion in a government database.

Brownback is quoted in the Kansas City Star the day he approved the legislation:
Asked why he did not think training should be required if it is valuable, Brownback said carrying a gun is a constitutional right.

'We're saying that if you want to do that in this state, then you don't have to get the permission slip from the government,' Brownback said. 'It is a constitutional right, and we're removing a barrier to that right.'
The Kansas state government had already recognized a legal right to open carry a gun without a government permission slip.

Alongside the "constitutional carry," Kansas will also continue to maintain the preexisting concealed carry system with required permits, fees, courses, and database submissions. People may choose to go through this permitting process so they can obtain recognition of their right to carry a gun in other states under reciprocity.

Over in Austin, Texas, the state House of Representatives passed HB 910 on April 20 that would allow concealed carry permit holders to also choose to legally open carry a modern handgun. The House bill is similar to a bill (SB 17) the state Senate approved on March 17.

Current Texas law allows modern handguns to be carried only by people with Texas concealed carry licenses and only if the handguns are concealed.

Texas Governor Greg Abbott pledged in his February State of the State speech to sign into law an open carry bill, and he is expected to approve this year an open carry bill after both the Texas House and Senate pass identical legislation. But, with both bills that have passed so far including permit, fee, training, and database inclusion requirements, it is all but certain that the final bill that becomes law will include these requirements as well.

In Texas, a government permission slip, along with associated fee, course, and database submission requirements (including the submission of fingerprints), appears set to be a prerequisite for legally exercising the right to carry a modern handgun either concealed or openly. The only other Texas carry options are to openly carry a long gun or an antiquated black powder gun — options many individuals often find impractical.

The saying goes that everything is bigger in Texas. Well, the Texas governor certainly has some big talk about liberty. In his February State of the State speech Abbott boasted:
Let me briefly follow up on a word I mentioned a moment ago – liberty. In a single word, it encapsulates what this country stands for, what Texas symbolizes. I will expand liberty in Texas by signing a law that makes Texas the 45th state to allow Open Carry.
But, on this issue, Abbot should set aside his boasting for a moment and pay attention to how Brownback and the Kansas legislature have one-upped their Texas counterparts.

photo.
---