Friday November 13, 2015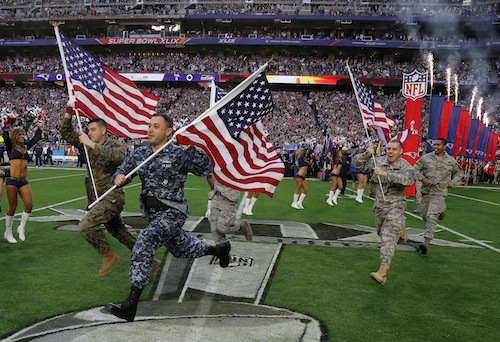 Last week, Senators Jeff Flake (R-AZ) and John McCain (R-AZ) released a report revealing the Department of Defense paid professional sports teams to host "patriotic events."

Anyone who has ever attended a sporting event knows these well. Military personnel are featured on the jumbotron, huge flags are spread across the field, returning veterans are named "hometown heroes," or asked to participate in half-time contests, ceremonial first pitches, and other activities intended to honor the US military.

Though seemingly a spontaneous illustration of national pride, the report revealed such actions to be anything but genuine. In fact, the report found that the Department of Defense had contracted with the NFL, NHL, MLB, and Major League Soccer to host such events, to the tune of $10.5 million taxpayer dollars.

In releasing the report, Senator McCain expressed his disappointment that sports franchises took federal funds for such purposes saying:
Americans across the country should be deeply disappointed that many of the ceremonies honoring troops at professional sporting events are not actually being conducted out of a sense of patriotism, but for profit in the form of millions in taxpayer dollars going from the Department of Defense to wealthy pro sports franchises. Fans should have confidence that their hometown heroes are being honored because of their honorable military service, not as a marketing ploy.
Criticizing these franchises is easy. Major league sports leagues certainly aren't known as bastions of morality. People have taken the report as a chance to discuss how "capitalism" has cheapened even our armed forces. But the real villain here isn't capitalism. It's the government. While the DOD maintains that such payments were to enhance recruiting, it's time we call these activities by their appropriate name.
read on...