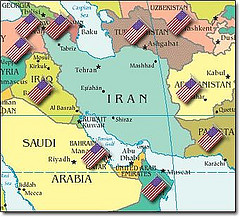 There are signs that a US military operation against Iran is imminent. The administration is pushing Congress for the authority to build new "temporary" facilities in Iraq and Syria. Its policy statement says the armed forces are hamstrung by legal restrictions on the ability to expand military infrastructure in Syria and Iraq. The Trump administration wants the existing authorities that only cover the "repair and renovation" of facilities extended to also encompass "temporary intermediate staging facilities, ammunition supply points, and assembly areas that have adequate force protection."

According to a 2016 Defense Department of Defense (DoD) report, the Pentagon wastes money on maintaining 22 percent excess infrastructure unnecessary infrastructure. The House and Senate Committee versions of the National Defense Authorization Act (NDAA) deny the military the right to spend money on a new round of Base Realignment and Closures (BRAC), making it pay for the real estate it does not need. Now new military bases in the Middle East may be added to the financial burden.

The added flexibility is supposed to boost the capabilities against the Islamic State (IS) but it does not sound credible. After all, the group is already retreating everywhere and the process is unstoppable. But boosting military infrastructure is the right thing to do if the enemy is a strong military power such as Iran. President Trump appears to have decidedly hardline leanings on that country.

After all, the first Donald Trump's foreign trips to Saudi Arabia and Israel were specifically targeted at Iran. In Riyadh, the president called for unity against Tehran, singling it out for its support of terrorism. He even hinted at the need for regime change. The US Treasury Department has applied additional sanctions on Iran's missile program while the administration is mulling of declaring the Iranian Revolutionary Guards a terrorist organization. The Congress is considering a bill to impose a set of sanctions on Tehran. The CIA has made moves toward more aggressive operations.

Visiting Saudi Arabia in April, US Defense Secretary James Mattis flatly stated: "Everywhere you look, if there's trouble in the region, you find Iran." The Washington Post reports that active or retired military officials hold at least 10 of the 25 senior policy and leadership spots on Trump's National Security Council — five times more than under the previous administration. Colin Kahl, a former Pentagon and White House official, believes that being limited in their worldview those officials could overestimate their ability to control events and end up provoking more conflict.

President Trump granted US commanders the authority to order attacks in countries with American military presence on January 29 - shortly after taking office. The United States is already involved in places such as Syria and the Persian Gulf where confrontation with Iran is looming. It greatly increases the risk of sparking a conflict.

The US military has come a number of times recently into direct conflict with the Iran-supported Shiite militias and pro-Iranian Hezbollah. In the southeastern Syrian desert pro-US and pro-Iranian forces are facing off with one another. America's military has bolstered its position in the area by deploying HIMARS mobile multiple launch rocket systems. The United States and Iran pursue different agendas in Syria to make them increasingly on a collision course. The US-supported coalition and pro-Iranian forces are maneuvering to control as much territory as possible in the vacuum created by the retreat of IS militants.

As the IS - the common enemy – gets weaker, the evolving battlefield in Syria and Iraq is drawing the United States and Iran towards a collision. The British Guardian cites Ilan Goldenberg, a former state and defense official, who said that "the tolerance that Shia Iranian-supported groups and American-supported groups have shown for each other" may disappear as the IS disappears off the map. He believes that with the IS gone, "You can see it all going haywire pretty quickly."

More and more sanctions, military exercises, huge arms deals with the countries hostile to Iran, and taking direct action against Iran's militant proxies could escalate tensions and provoke a flare up. It would easily spill over into Iraq, where roughly 6,000 U.S. troops operate in close proximity to tens of thousands of Shia militia fighters aligned with Iran. The Persian Gulf is the place where the US and Iranian navies operate in close proximity. The incidents have already taken place. That's where a spark can start a big fire.

President Trump's standing with the American people has deteriorated since the spring, buffeted by perceptions of a decline in US leadership abroad, a stalled presidential agenda at home and an unpopular Republican health-care bill, according to a new Washington Post-ABC News poll. According to The Washington Post, Approaching six months in office, Trump's overall approval rating has dropped to 36 percent from 42 percent in April. His disapproval rating has risen five points to 58 percent. Overall, 48 percent say they "disapprove strongly" of Trump's performance in office, a level never reached by former presidents Bill Clinton and Barack Obama and reached only in the second term of George W. Bush in Post-ABC polling.

With the administration hemmed in by investigations into its alleged Russia links and the failure to advance his policy, a short victorious war would be just the thing to make the president win flag-rally popular support with approval rating going up again. Besides, a war against Iran may be a warning to North Korea telling it unambiguously - you're next! America is gradually sliding into another war with a distant country that poses no immediate threat to it. So far, it has won wars but failed to win peace. Wading into the Middle East mess, the US will become weaker not stronger. No intervention was a success but this lesson appears to be never learnt.

Reprinted with permission from the Strategic Culture Foundation.
---