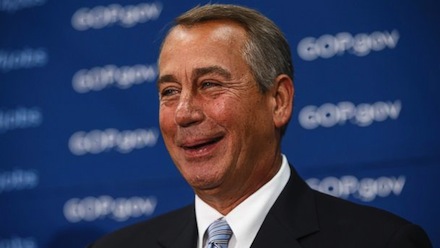 The US House of Representatives on Friday again voted to pay for war on the Islamic State (ISIS) without ever having a debate and vote on the authorization of the war. This result is par for the course given the House leadership is well practiced in manipulating House rules to scuttle efforts by Reps. Walter Jones (R-NC) and James McGovern (D-MA), as well as by other House members, to ensure that the legislative branch fulfills its constitutional responsibility to decide when the US government uses military force.

By barring war debates and votes, the House leadership ensures the continued legislative rubber-stamping of the wars the executive branch unilaterally pursues.

The authorization of funding for the ISIS War that the House approved Friday is included in the massive National Defense Authorization Act (NDAA) for Fiscal Year 2016 (HR 1735) that covers funding authorization for the Department of Defense generally. This leaves any representative who voted for the legislation with the ability to deny responsibility for the ISIS War by saying he voted for the NDAA just to advance some combination on other provisions in the bill.

Over at the Huffington Post, Jennifer Bendery tells the sad tale of how House leadership suppressed efforts to bring a debate and vote on the war to the House floor during consideration of the NDAA. Bendery explains:
The House passed legislation Friday that clears the path for spending tens of billions of dollars on overseas wars, including the one against Islamic State militants that Congress still hasn't authorized.

Lawmakers voted 269-151 to pass the fiscal 2016 National Defense Authorization Act, which would, among other things, permit Congress to spend $89.2 billion on war funding. Republicans allowed 135 amendments to the bill, which covered topics ranging from immigration to remotely piloted aircraft to fire hoses being exempt from certain purchasing requirements.

But they shut out any debate on the need for an Authorization for Use of Military Force to put limits on the months-long war against the Islamic State. At the same time, the defense bill authorizes spending billions more fighting the group also known as ISIS. A handful of lawmakers tried to attach AUMF amendments to the legislation, but were denied.

"Last night, the Rules Committee voted down an amendment I offered to the NDAA in the form of a limited and narrow authorization against ISIS," Rep. Adam Schiff (D-Calif.) said Thursday. "The majority's objection was that the defense bill was not the place to debate the war. Perhaps not, but if not here, where?"
Continue reading Bendery's account here.

All of this should be of little surprise in an institution whose top officer — House Speaker John Boehner (R-OH) — has been saying for well over half a year that the House should vote the ISIS War up or down but refuses to ever allow a debate and vote to occur on the matter.
---