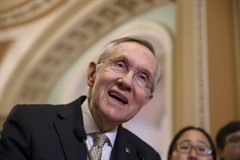 President Barack Obama is encountering no opposition from the top four Democrat and Republican leaders in the House and Senate as he escalates US military action in Iraq with new bombings.

US Senate Minority Leader Mitch McConnell (R-KY) has chosen not to comment regarding the matter, just as he did last year regarding a potential US military attack on Syria until he announced his opposition the same day Obama called off the planned attack. The other three top Republican and Democrat leaders in both chambers of Congress have all issued statements supporting the US military's ongoing bombings in Iraq.

In contrast, some Congress members are adamantly opposing the escalation. Rep. Alan Grayson (D-FL), for example, wrote an editorial in USA Today pleading, "We have to get past this bizarre notion that every time there's something in the world we don't like, we bomb it."

With Obama having started the bombings at the beginning of Congress' annual August recess and lined up the support — or silence in the case of McConnell — of the top party leaders in both congressional chambers, the military escalation will be old news by the time senators and representatives return to DC in September.

It is as if Obama and his congressional accomplices have learned their marketing lesson from last year when popular opposition caused Obama to rescind his request for a congressional vote to approve a US military attack on Syria.

Following are the statements issued by the Senate Majority Leader, US House of Representatives Speaker, and House Democratic Leader supporting the ongoing US bombings in Iraq:

Senate Majority Leader Harry Reid (D-NV):
I support President Obama's decision to send humanitarian air drops to the thousands of stranded Iraqi civilians who have been forced to flee their homes and are at risk of dying. I also support the President's decision to launch air strikes as long as no combat forces are on the ground. These air strikes are the correct action for our national security, they will protect American interests and save lives in Iraq.

I look forward to the Administration's continued close consultations with Congress.
House Speaker John Boehner (R-OH):
The president's authorization of airstrikes is appropriate, but like many Americans, I am dismayed by the ongoing absence of a strategy for countering the grave threat ISIS poses to the region. Vital national interests are at stake, yet the White House has remained disengaged despite warnings from Iraqi leaders, Congress, and even members of its own administration. Such parochial thinking only emboldens the enemy and squanders the sacrifices Americans have made. The president needs a long-term strategy – one that defines success as completing our mission, not keeping political promises – and he needs to build the public and congressional support to sustain it. If the president is willing to put forward such a strategy, I am ready to listen and work with him. For now, I wish Godspeed to all our men and women participating in these operations.
House Democratic Leader Nancy Pelosi (D-CA):
I support the President's leadership to avert a massacre of the Yazidi people and other religious minorities in Iraq. ISIS's brutal treatment, depriving Yazidis of food and water in 120 degree heat on the mountain and threatening to slaughter them if they descend, is outside the circle of civilized human behavior.

It is also appropriate that the President authorized air strikes against ISIS should they threaten U.S. personnel and other interests in Erbil or elsewhere in Iraq.

As the President reiterated, there is no American military solution to the situation in Iraq. Defeating ISIS will require Iraq's leaders to see beyond their divisions and come together to fight this common threat. These actions are the only way to achieve durable security and stability for all Iraqis.

I was pleased by the President's continued assurances that he will not send U.S. troops back into combat in Iraq. I appreciate the briefings provided in advance of the President's announcement. Congress looks forward to receiving additional information and intelligence on these humanitarian and military operations.
---