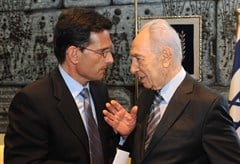 House Majority Leader Eric Cantor with Shimon Peres
The United States House of Representatives is scheduled to consider today awarding a Congressional Gold Medal to Israel President Shimon Peres. Notably, the short bill, HR 2939, that authorizes the creation of the gold medal and its award to Peres touts Peres' "pivotal role in forging the strong and unbreakable bond between the United States and Israel" and states that "[b]y presenting the Congressional Gold Medal … Congress proclaims its unbreakable bond with Israel and reaffirms its continual support for Israel." Peres also previously served as prime minister of Israel, as well as in other high-level positions in the Israel government.
It would be appropriate today for members of the House to reflect on the words of the first person awarded a Congressional Gold Medal—President George Washington. In particular, they may read Washington's farewell address, in which Washington encouraged the United States government to follow a noninterventionist foreign policy. You cannot square Washington's recommendation with having an "unbreakable bond" with any foreign government. Unlike House Majority Leader Eric Cantor who twists Washington into a champion of a world-wide interventionist agenda, some House members may find wisdom in the reading.
Back in 2003, Congress approved awarding a Congressional Gold Medal to a leader of another foreign nation—Great Britain Prime Minister Tony Blair. The short bill, S 709, authorizing that medal also contained supportive language endorsing foreign intervention, declaring:
The Speaker of the House of Representatives and the President Pro Tempore of the Senate shall make appropriate arrangements for the presentation, on behalf of Congress, of a gold medal of appropriate design, to Prime Minister Tony Blair, in recognition of his outstanding and enduring contributions to maintaining the security of all freedom-loving nations. [emphasis added]
RPI chairman and founder Ron Paul, who was serving then in the House as a representative from Texas, plainly stated the message of that Congressional Gold Medal award:
…Tony Blair is being given this medal for one reason: he provided political support when international allies were sought for America's attack on Iraq. Does this overtly political justification not cheapen both the medal itself and the achievements of those who have been awarded it previously?
Even if the Congress will not go so far as following Paul's advice that it stop awarding Congressional Gold Medals altogether, maybe more House and Senate members will at least stand up to the medals' use as a tool in promoting war and an interventionist foreign policy.