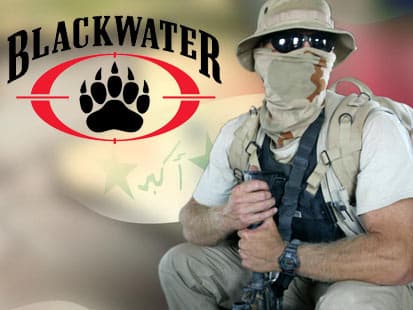 So file this one under "What Could Possibly Go Wrong?" subcategory, "Everything."
American ally the United Arab Emirates (UAE) has dispatched hundreds of Colombian mercenaries to Yemen to fight in that country's raging conflict, adding a volatile new element in a complex proxy war that has drawn in the United States and Iran, reports the New York Times.
It is the first combat deployment for the mercenary army that the Emirates has built up over the past five years. And — small world –the army was raised and for its few years run by Erik Prince, the founder of Blackwater. The mercs are presently controlled by the small Emirati military while Prince presumably has moved on to create private merc armies for others we'll someday learn about.
The arrival in Yemen of 450 Latin American troops — among them are also Panamanian, Salvadoran and Chilean soldiers — adds to the volatile stew of government armies, armed tribes, terrorist networks and Yemeni militias currently at war in the country. Earlier this year, a coalition of Sunni countries led by Saudi Arabia, including the United States, began a military campaign in Yemen against Shia Houthi rebels supported by Iran. So, in theory, the merc army is semi-on the same side as the US
As background, we all do remember that the US government previously employed Erik Prince's Blackwater mercenaries in Iraq as security for the American embassy and State Department diplomats.
After Blackwater imploded, killing 14 innocent Iraqi civilians and wounding 17 others, in Nisour Square and after a few name changes (Xe, Academi) to hide the fact that Blackwater was still employed by the State Department long after, the mercenary contracts moved to other similar but unrelated companies. Those companies in turn employed mercenaries from various countries in service to the USG. In addition to many mercs from Central and South America, popular hired guns also were recruited from Africa, where child soldiers and constant warfare created a steady pool of trained recruits.
"Mercenaries are an attractive option for rich countries who wish to wage war yet whose citizens may not want to fight," said Sean McFate, a senior fellow at the Atlantic Council and author of The Modern Mercenary: Private Armies and What They Mean for World Order.
"The private military industry is global now," said McFate, adding that the United States essentially "legitimized" the industry with its heavy reliance on contractors in Iraq and Afghanistan over more than a decade of war.
BONUS: Erik Prince is now chairman of another security firm, Frontier Services Group. It focuses heavily on providing logistics and aviation support in Africa. The company has a fleet of Cessna aircraft and "holds important customer approvals from the United Nations, the British government and the US government."
And what could possibly go wrong with all that?
Reprinted with permission from WeMeantWell.com.