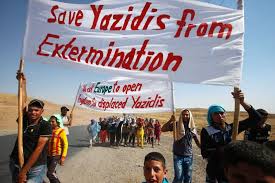 It was about two years ago to the day I was blacklisted at CNN.

I don't want to remind them they were sadly wrong, but they were. So write this off however you prefer, but understand that we were lied to again to drag us again into an open-ended war in Iraq-Syria. Last time it was Bush and those missing Weapons of Mass Destruction. This time is was Obama and saving the Yazidi people from genocide.

Wait, what? Who are the Yazidis? How they get us back into Iraq?

Ah, how fast time flies.

Two years ago a group of Yazidis, a minority spread across Iran, Iraq and Turkey, were being threatened by a group called ISIS few American were focused on. Obama declared a genocide was about to happen, and the US had to act. US officials said they believed that some type of ground force would be necessary to secure the safety of the stranded members of the Yazidi group. The military drew up plans for limited airstrikes and the deployment of 150 ground troops.

No Congressional authorization was sought, no attempt was made to secure UN sanction, no effort was made to seek Iraqi military help to save their own people inside their own country. However, promises were made by the White House of having no American "boots on the ground" and that the airstrikes to kill people were for a humanitarian purpose.

Two years later the US has some 6,000 troops on the ground, including artillery units and aircraft based inside Iraq and Syria. The limited airstrikes have expanded to a 24 month broad-based bombing campaign, which has spread into Syria, with the sideshows of complete collapse of democracy in Turkey, a Russian military presence in Syria, and an Iranian military presence in Iraq. For the record, the Yazidis are pretty much fine, as are ISIS and Syrian president Assad. The Yazadis do occasionally show up in fear-mongering, unsourced stories about ISIS sex slaves, usually spoon-fed to American media, and only American media, by pro-Yazidi ethnic groups safely in the west.

In fact, other than a massive regional death toll and no progress toward whatever the actual goal for the United States is (um, whatever, "destroy" ISIS), things are pretty much the same after two years, +chaos. And whomever is elected this November will be the fifth US president to make war in Iraq.

Back to CNN.

As the Yazidi situation was unfolding, I was invited to tape a discussion there alongside the usual retired US military colonel. I was asked a single question, explained in my answer that the US was in fact using the Yazidi "humanitarian crisis/faux genocide" as an excuse to re-enter the Iraq quagmire, and equated it to George W. Bush's flim-flam about weapons of mass destruction in 2003.

The host literally said I was wrong. I was not asked another question, though the colonel was given several minutes to explain the urgency of the situation, demand America act where no one else would, and assure the public that Obama planned only limited, surgical strikes and that was it, one and done.

My question was edited out, the colonel's lengthy answer was played on air, and my very brief moment in the glow of CNN was ended even though I wore a nice suit and a tie. Oh well, we still have each other here, and hey, CNN, my number's still the same if you wanna call.

Reprinted with permission from WeMeantWell.com.
---