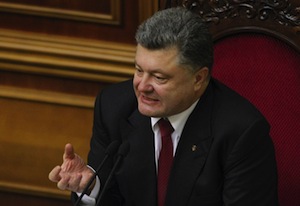 Ukrainian president Petro Poroshenko has steadily ramped up the rhetoric following last weekend's elections in breakaway eastern regions of the country. In just 15 minutes today, the US-backed leader racked up more than 30 Tweets mixing threats against the breakaway Donbas region of eastern Ukraine with promises of "free-trade zones" and "budgetary decentralization."

Some of Poroshenko's Tweets sound a bit like the seductive promises of the big bad wolf, particularly considering the recent findings by Human Rights Watch that the Kiev government used cluster bombs against the civilian population of the breakaway regions.


We demonstrated to the residents of Donbas region as well as to the whole world that we are sincere in our desire for political settlement

— Petro Poroshenko (@PoroshenkoEng) November 3, 2014
In reality, Kiev's demonstration to the residents of Donbas appears to be that it will use indiscriminate, ghastly force (warning) against civilians of the region.

Other fallout from his Tweet-storm are probably unintentionally ironic, such as when he condemns the actions of the breakaway eastern regions by pretty much describing exactly how he and his colleagues illegally came to power in February with the help of an interventionist US government:

Bandits, terrorists and interventionists can coronate themselves as deputies, prime-ministers and ministers.

— Petro Poroshenko (@PoroshenkoEng) November 3, 2014
The attempt to toss out a few carrots does not cover up the sticks, however. First, Poroshenko strongly insinuates that by voting in their own leaders, the citizens of eastern Ukraine have broken the Minsk ceasefire agreement. This could well be construed as Kiev giving itself a green light to resume bombarding the region with its military forces:

Farce of November 2 jeopardizes the entire peace process, the beginning of which has been achieved at the cost of outstanding efforts.

— Petro Poroshenko (@PoroshenkoEng) November 3, 2014
He tweets that he is meeting with his security council to re-analyze the situation and refers to the recently-elected leaders in the region as "militants," "occupants," "terrorists," and "bandits." All of these seem to set the stage for a renewed assault on the region. 

Two other factors that suggest perhaps imminent resumption of hostilities are the launching of yet another NATO military exercise on Russia's borders and a renewed frenzy of unsubstantiated reports of Russian military movements (inside Russia, but still "threatening").

Additionally, the US Ambassador to Ukraine, Geoff Pyatt (who was earlier this year on the other end of State Department's Victoria Nuland's "F*** the EU" telephone call), pledged in a recent interview that the "United States will train Ukrainian servicemen and supply military high technology to Ukraine" to better operate in the Donbas  -- precisely the location of the breakaway areas.

After several months of US special forces presence in Ukraine, helping with training and tactics, perhaps the Kiev government feels this it the time to attempt a final solution to the eastern problem.

Watch this space...
---