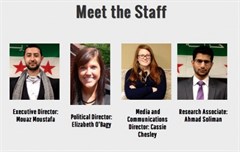 Yesterday we wrote about the Institute for the Study of War's Elizabeth O'Bagy, the Syria "expert" who recently wrote that the CIA assessment that the Syrian opposition was by and large a franchise of al-Qaeda was completely wrong, and in fact they are mostly "moderate" and Western friendly. O'Bagy's article was recommended by Secretary of State Kerry at a recent Hill appearance in an effort to soothe Members' fears about voting for a strike on Syria that would help place extremists in power (like the US did recently in Libya).

O'Bagy got into a bit of trouble, however. As if being considered an expert for the military-industrial-complex supported Institute for the Study of War, whose chairman is arch-neocon William Kristol, is not compromising enough, it turns out O'Bagy's relentless shilling for a military attack on Syria was being bankrolled by her moonlighting employer, the Syrian Emergency Task Force. Working as an undeclared lobbyist for a foreign power pushing a war overseas while posing as an academic expert helpfully presenting Kerry et al with facts to support their policies. Tsk tsk.

But it gets better. As the indispensable Max Blumenthal points out, O'Bagy's nighttime employer, the Syrian Emergency Task Force, is headed by the very shadowy Mouaz Moustafa. Blumenthal explains:
Back in May, Moustafa arranged a meeting between John McCain and a group of Free Syrian Army fighters. The photo-op quickly transformed into a public relations disaster when Lebanon's The Daily Star reported that one of the man posing with McCain had kidnapped 11 Shiite pilgrims a year before.

Since emerging as SETF's Executive Director, Moustafa has forged close ties with WINEP, the neocon-oriented think tank founded as an ancillary of AIPAC. Formerly listed as a WINEP "expert" – his page on the think tank's site has disappeared – Moustafa spoke at WINEP's Soref Symposium this year.
No wonder O'Bagy wanted to keep her ties with the Syrian Emergency Task Force secret -- it looks a lot like an AIPAC front organization.

Caught in her lie, O'Bagy has over the past day or so feverishly re-worked her official bio at the Institute for the Study of War to explain her second job. She was not at all a political lobbyist for the Syrian Task Force, she explains, but only a State Department contractor paid "to provide an evaluation of the current aid and assistance programs inside Syria and provide guidance on how to better implement these programs."

As is usual with one lie, its explanation begs far more questions than it answers. What is the State Department (or whatever US government agency may be paying her) doing hiring such a relentless advocate for US war on Syria to coordinate anything at all? Is she under contract to help plant stories like her recent gift to John Kerry on the al-Qaeda in Syria? 

Like the dubious "evidence" the administration has presented in its run up to war on Syria, its shills and spokespersons are all of a very suspicious nature. The whole thing smacks of crude propaganda and as usual, for answers we need to follow the money.

O'Bagy should be fired and never listened to again, but of course she is saying what the neocons want to hear so we should expect to see more of her and her WINEP sponsors. AIPAC is set to descend on the Hill next week to strong-arm Members into supporting war on Syria. Will their talking points have been written by a certain State Department humanitarian affairs contractor and Bill Kristol acolyte?
---