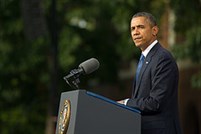 Until very recently, the mainstream media agreed with Oprah: only a Grand Kleagle would criticize Obama, let alone portray him as an incompetent. Yet overnight, the mainstream media has joined the GOP. None of the groups involved is opposed to state medical care, so that is not the reason.

Here's what I think: the warmongers have opened up the sluice gates because Obama is not, for the time being, anyway, obeying them. He did not bomb Syria, and so far, he has not bombed Iran.

Mr. President: go down in history as a peacemakeer. Fly to Tehran.

Source: LRC Blog.
---