Wednesday February 12, 2014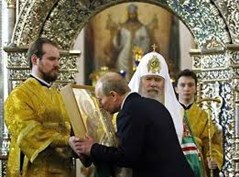 An unfortunate legacy of the Cold War is the negative attitude some American conservatives yet harbor toward Russia. Conditioned for decades to see Russia and the Soviet Union as synonymous, they still view post-communist Russia as a threat. They forget that Tsarist Russia was the most conservative great power, a bastion of Christian monarchy loathed by revolutionaries, Jacobins, and democrats. Joseph de Maistre was not alone among 19th-century conservatives in finding refuge and hope in Russia.

Under President Vladimir Putin, Russia is emerging once more as the leading conservative power. As we witnessed in Russia's rescue of President Obama from the corner into which he had painted himself on Syria, the Kremlin is today, as the New York Times reports, "Establishing Russia's role in world affairs not based on the dated Cold War paradigm but rather on its different outlook, which favors state sovereignty and status quo stability over the spread of Western-style democracy."

In his own Times op-ed on Syria, Putin wrote, "It is alarming that military intervention in internal conflicts in foreign countries has become commonplace for the United States. Is it in America's long-term interest? I doubt it." Sen. Robert A. Taft and Russell Kirk also doubted it.
read on...