Friday June 3, 2022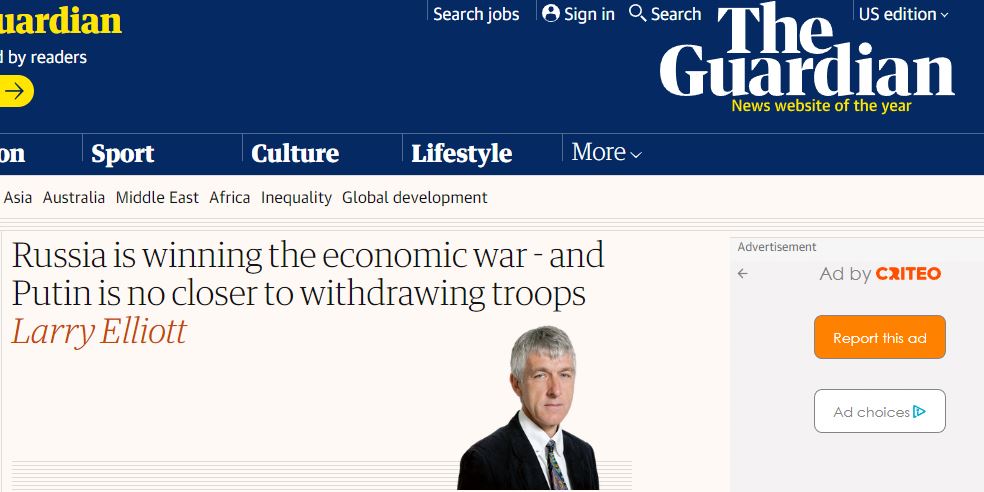 Even as the collective West continues to insist – against all observable reality – that the conflict in Ukraine is going well for Kiev, major media outlets are becoming increasingly uneasy with the situation on the economic front. More and more observers are admitting that the embargoes imposed by the US and its allies aren't crushing the Russian economy, as originally intended, but rather their own. 

Meanwhile, some major publications have begun to report on the actual situation on the frontlines, rather than uncritically quoting myths like the 'Ghost of Kiev' or the 'Snake Island 13' propagated by Volodymyr Zelensky's office, as they did early on. There have even been hints, however vague, that the West should perhaps stop unconditionally supporting Kiev and promote a negotiated peace instead. 

"Russia is winning the economic war," the Guardian's economics editor Larry Elliott declared on Thursday. "It is now three months since the west launched its economic war against Russia, and it is not going according to plan. On the contrary, things are going very badly indeed," he wrote.

Elliott actually argues that the recent US announcement of sending rocket launchers to Ukraine is proof that sanctions are not working: "The hope is that modern military technology from the US will achieve what energy bans and the seizure of Russian assets have so far failed to do: force [Russian President Vladimir] Putin to withdraw his troops."
read on...