Monday January 18, 2021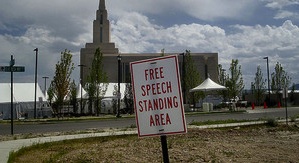 It's hard to hear ideologues spouting ideas you know are fully wrong, even harder when you know that the implementation of such ideas would hurt people, including you. Hardest is listening to a message full of hate, vitriol, and name-calling, especially when it's directed against you personally.

It's therefore natural to declare that there is no place in a civil society for such ideas, and shut them out for our own and others' protection.

Yet America's Founders, having just concluded a contentious, violent, and most uncivil revolutionary war, marked by high feelings and powerful propaganda on both sides, recognized the power of their superior ideas in building support for their cause, and concluded that suppression of free association and free speech poses an existential danger for a free society. They thus enshrined protection of both in the First Amendment that was a necessary condition of the ratification of a Constitution conferring powers in government—therein also ranking an armed citizenry as the second-best defense against tyranny.
read on...