Wednesday December 11, 2013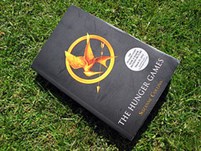 One of the first critics to miss the point was Laura Miller. Writing in The New Yorker in 2010, she claimed that "dystopian fiction exists to warn us about the dangers of some current trend," and she went on to interpret The Hunger Games as "a fever-dream allegory of the adolescent social experience," her idea being that coming of age in America is now a particularly scathing crucible, with foreboding trends, like bullying and near constant parental surveillance. It was a fine theory, but a bit of a stretch, as there are so many more obvious warnings. Suzanne Collins, author of the young adult trilogy, who also happens to be a Roman Catholic, rarely responds to what is written about her work, but she felt compelled to make a public clarification later in an interview with The New York Times.

Collins said: "I don't write about adolescence. I write about war. For adolescents."
read on...