Wednesday September 4, 2013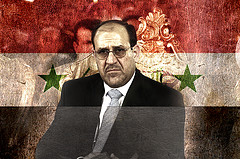 The pressure in the boiler which Western officials affectedly call "the new democratic Iraq" is building steadily and, figuratively speaking, the needle has entered the red zone. The deepening crisis is systemic in nature, encompasses the most important areas of life and undermines the foundations of statehood. A significant part, if not most, of the responsibility for what is happening lies with the government, headed by the founder and leader of the Islamic Call Party, Nouri Kamil al-Maliki. 
In late 2011, when the last American combat troops left Iraq and the 7-year occupation ended, Baghdad many times declared its readiness to take over the administration of the country and ensure its forward development. In practice, Prime Minister al-Maliki began by quickly and energetically concentrating all power in his own hands and essentially deciding who to punish and who to pardon at his sole discretion. The head of the cabinet of ministers began purging undesirables and those who simply disagreed with the state machinery, without any particular concern for whether there was any basis for it and without scruples over his choice of means. The opposition (and others as well) had many grounds for accusing the head of the cabinet of dictatorial ambitions. 
Following the example of the representatives of the Western coalition, which declared anyone who opposed the occupation a criminal and a terrorist, al-Maliki started accusing everyone who disagreed with his actions of terrorism and collusion with al-Qaeda. The law on fighting terrorism gave intelligence and law enforcement agencies broad powers, including the right to arrest people and hold them in detention without trial solely on suspicion of "anti-government activities" or, for example, in connection with longtime membership in the now-banned Ba'ath party (although the former ruling party had members from all levels and confessions of Iraqi society). On the basis of this law the courts hand down death sentences, which are then carried out; for example, on August 19, 2013 the most recent batch of 17 "enemies of the people" were executed, including two women... 
read on...