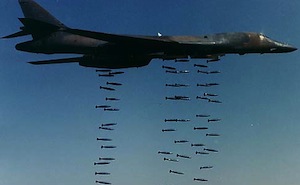 In the days following the 9/11 attacks, Congress passed into law a 60-word sentence that set the stage for perpetual war. This 2001 Authorization for Use of Military Force (AUMF) contains no time limits, no geographic constraints, and no exit strategy. It has effectively become a blank check for any president, at any time, to wage war without congressional consent or oversight.

According to the Congressional Research Service, the 2001 AUMF has been cited as statutory authority for unclassified military or related actions at least 41 times in 18 countries. Both President George W. Bush and President Obama used it, and now President Trump is following the same path.
That is a portion of the cogent analysis Reps Barbara Lee (D-CA) and Justin Amash (R-MI) offer in their Wednesday The Hill editorial explaining why they support repealing the AUMF that has facilitated members of the United States Congress abdicating their authority over US wars and three presidents exercising unrestrained use of military force abroad. The editorial came the day after Lee and Amash hosted a joint hearing of the United States House of Representatives Progressive Caucus and Liberty Caucus focused on exploring repealing the AUMF.

Read Lee and Amash's complete editorial here.

Watch here the Progressive Caucus and Liberty Caucus' fascinating hearing. The hearing includes testimony of Michael McPhearson from Veterans from Peace, Daniel L. Davis from Defense Priorities, and Rita Siemion from Human Rights First, as well as statements and questions from Reps. Lee, Amash, Walter Jones (R-NC), Bonnie Watson Coleman (D-NJ), Thomas Massie (R-NC), Jan Schakowski (D-IL), Jim Jordan (R-OH). Mark Sanford (R-SC), Warren Davidson (R-OH), Jim McGovern (D-MA), and Dave Brat (R-VA).

We'll see if the bipartisan movement in the House for a repeal of the 2001 AUMF ultimately gains enough support to force a debate and vote on the House floor. Over the years, House Speaker Paul Ryan (R-WI) and his predecessor John Boehner (R-OH) have ducked their constitutional responsibility by withstanding pressure from members to hold such a debate and vote.

During the hearing, Jones frankly addressed Ryan and Boehner's responsibility for preventing a House floor debate and vote on the AUMF. "The one man blocking this debate is Paul Ryan," declared Jones. Jones elaborates:
The speaker of the House has the authority to order the committees of jurisdiction to mark up a new AUMF. We have written letters individually and also in a bipartisan way; we still have not had a debate. We started that request under John Boehner — no debate.
Jones proceeds to suggest the Tuesday hearing is an important step in the effort to wake up Americans who will spread the word that Congress is "brain dead" concerning its constitutional responsibility in regard to war.

Jones and Massie are members of the Ron Paul Institute for Peace and Prosperity Advisory Board.
---