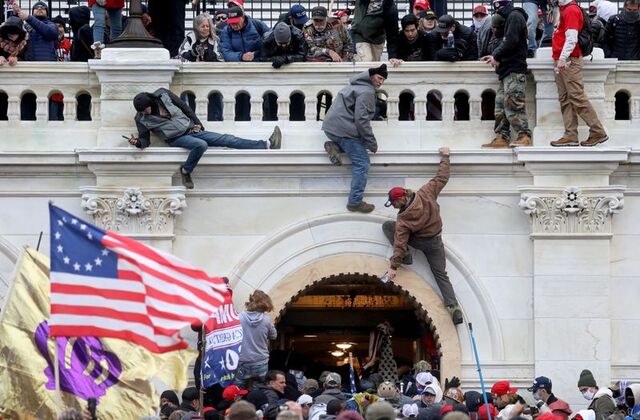 For months, Merrick Garland's Department of Justice has tried every trick in the law books to conceal from Americans a massive trove of video evidence that captured all the activity at the Capitol complex on January 6. Federal judges have played along, approving hundreds of protective orders to keep video clips—particularly footage recorded by the Capitol Police's extensive closed-circuit television system—out of the public eye.
Time, however, is running out for the government.
Despite numerous discovery delays, Garland's prosecutors are gradually turning over video evidence to defense attorneys as they prepare for trial. All surveillance video from the Capitol's security system is designated "highly sensitive" government material; strict rules apply to the handling of every slice of footage.
There's a reason why. As we have reported at American Greatness for months, one of the most scandalous untold stories about January 6 is egregious police misconduct that, in some instances, amounted to brutality by D.C. Metro and US Capitol police. Had these attacks by law enforcement occurred in any other public or private setting against leftist protesters, the national outrage would have resulted in mass firings and immediate calls for criminal investigations.
For example, the House of Representatives held two hearings last year related to its investigation into allegations of excessive force by members of the US Park Police in LaFayette Square, located across the street from the White House, on June 1, 2020. Rioters protesting the death of George Floyd occupied the federal park for days, attacked law enforcement, set fires, and looted nearby property, which prompted the Secret Service to move President Trump to a safe location. An inspector general report later confirmed rioters assaulted federal officers with "bricks, rocks, caustic liquids, frozen water bottles, glass bottles, lit flares, rental scooters, and fireworks."
But LaFayette Square rioters were portrayed as victims rather than perpetrators of the violence. One activist, Kishon McDonald, a 39-year-old Navy veteran, testified to the House Natural Resources Committee in June 2020 that "police started throwing tear gas and flash-bang grenades at us for no reason . . . We were retreating. Using weapons on us was ridiculous. It just made the situation dangerous." Officers also were accused of hitting protesters with riot shields and batons.
A similar yet more violent situation played out on Capitol Hill on January 6. Open-source video and testimonial evidence show Capitol and D.C. Metro police officers using flashbangs, "sting balls" filled with rubber projectiles, and excessive amounts of tear gas against peaceful protesters assembled outside the building an hour before the building even was breached. Other first-hand accounts describe physical assaults by police; one clip circulated on Twitter in late November shows several D.C. Metro police officers taking down and beating a protester who apparently breached a security line.
Hearing from the Defense
Democrats, most Republicans, and the entire corporate news media not only have ignored provable instances of police brutality on January 6 but suggest "insurrectionists," including Babbitt, deserved their fate. The same news organizations that for years have covered every angle of alleged police misconduct are selectively quiet when it comes to the egregious behavior by law enforcement during the Capitol protest.
But defense attorneys now are prepared to present their evidence about what the police did on January 6 in the court of public opinion, which matters as much as the legal proceedings underway in the D.C. court system. Joseph McBride, a New York-based attorney representing some January 6 defendants, prepared a motion last month that detailed an horrific account of what happened in the lower west terrace tunnel, the site of the most vicious brawls between police and protesters.
In his filing on behalf of Ryan Nichols—a decorated Marine charged with several offenses including assaulting law enforcement that day—McBride, based on his viewing a three-hour segment of surveillance footage, described police officers punching, kicking, macing, and beating with sticks and their fists several protesters trapped inside the tunnel.
One D.C. Metro Police supervisor was especially abusive, repeatedly beating an unidentified woman. "The weapon this officer appears to be using is a collapsible stick, designed to break windows in emergency situations," McBride wrote of the supervisor. "This stick is neither designed nor to be used against another human being."
The woman was punched numerous times in the face; blood was pouring out of her face, according to McBride's motion. When Nichols, who wanted to keep an eye on the targeted woman, sees her attempting to leave the tunnel, "she gets kicked and stomped in the head by an officer. She is screaming, and so are others."
This still unidentified woman is not Rosanne Boyland, the 34-year-old Trump supporter from Georgia who also died on January 6. The D.C. coroner attributed her death to overdosing on her daily medication of Adderall. But new revelations about the circumstances prior to her death cited in court documents and witness statements raise disturbing questions. Boyland apparently died outside the tunnel around 4:30 p.m. on January 6 amid a fierce battle between police and protesters.
Her body was then dragged through the tunnel by Sergeant Aquilino Gonell, one of the January 6 select committee's star witnesses, according to his own testimony. Gonell met up with Officer Harry Dunn inside the building; they kept her body at the House Majority Leader's office until paramedics arrived. Boyland was transported to an area hospital and officially pronounced dead after 6 p.m.
Fair use excerpt. Read the rest here.