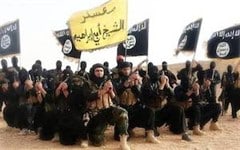 In recent years, President Obama, his European friends, and even some Middle Eastern allies, have supported "rebel groups" in Libya and Syria. Some received training, financial and military support to overthrow Muammar Gadhafi and battle Bashar al Assad. It's a strategy that follows the old saying, "The enemy of my enemy is my friend," and it has been the American and allied approach for decades in deciding whether to support opposition groups and movements.
The problem is that it is completely unreliable — and often far worse than other strategies. Every year there are more cases in which this approach backfires. The most glaring and famous failure was in Afghanistan, where some of the groups taught (and supplied) to fight the Soviet Army later became stridently anti-Western. In that environment, Al Qaeda flourished and established the camps where perpetrators of the Sept. 11, 2001, attacks were trained. Yet instead of learning from its mistakes, the United States keeps making them.
Washington and its allies empowered groups whose members had either begun with anti-American or anti-Western views or found themselves lured to those ideas in the process of fighting. According to interviews with members of militant groups, such as the Islamic State in Iraq and Syria's Al Nusra Front (which is aligned with al Qaeda), that is exactly what happened with some of the fighters in Libya and even with factions of the Free Syrian Army.
"In the East of Syria, there is no Free Syrian Army any longer. All Free Syrian Army people [there] have joined the Islamic State," says Abu Yusaf, a high-level security commander of the Islamic State, whom The Washington Post's Anthony Faiola wrote about last week.
The Islamic State is the most successful group for now, controlling the main areas of Syrian oil and gas fields. It has also acquired large amounts of cash, gold (from banks in the areas they control) and weapons in its fight against the armies in Syria and Iraq. "When the Iraqi Army fled from Mosul and the other areas, they left behind all the good equipment the Americans had given them," Abu Yusaf says.
Read the rest of the article…