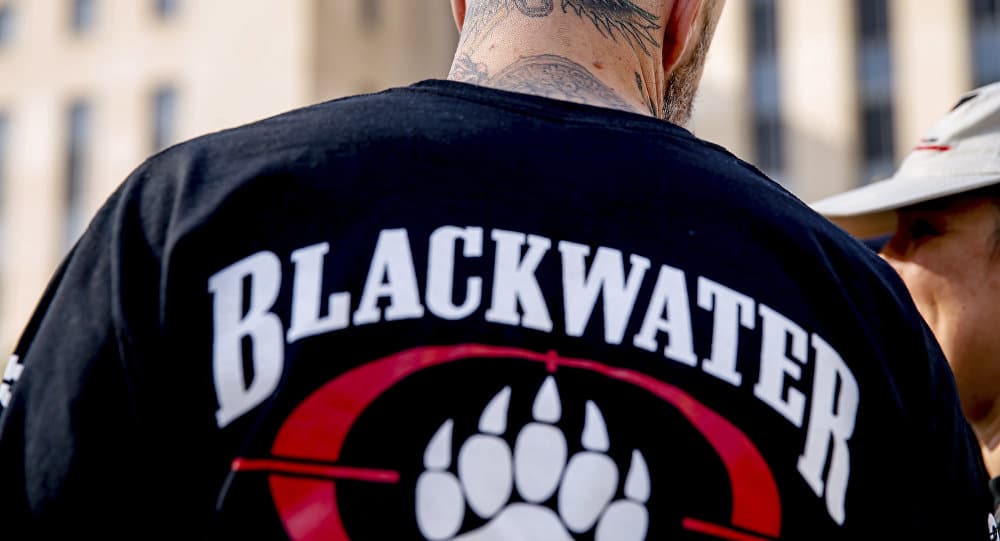 During the time that US Defense Secretary James Mattis and National Security Adviser H. R. McMaster are reviewing the US military policy in Afghanistan, The New York Times ran a story on July 10, 2017 that exposed a threat that will upend US defense strategy and return it to a bitter past. The Times story was centered around the following paragraph:
"Erik D. Prince, a founder of the private security firm Blackwater Worldwide, and Stephen A. Feinberg, a billionaire financier who owns the giant military contractor DynCorp International, have developed proposals to rely on contractors instead of American troops in Afghanistan at the behest of Stephen K. Bannon, Mr. Trump's chief strategist, and Jared Kushner, his senior adviser and son-in-law, according to people briefed on the conversations."
The history of Blackwater and Dyncorp is one of heinous war crimes in Iraq and the Balkans and massive fraud involving US taxpayers' money in military forays around the world. After coming under investigation for his activities as Blackwater's chief, Prince, whose sister is Donald Trump's Education Secretary, Betsy DeVos, sold the company and moved his mercenary operations offshore to Abu Dhabi.
Prince's Abu Dhabi-based company, Reflex Responses (R2), has been recruiting and training forces from around the world, particularly from Colombia, Chile, Honduras, South Africa, and Romania as mercenaries for Abu Dhabi's crown prince Sheik Mohamed bin Zayed al-Nahayan. There is a strict prohibition on hiring Muslim military personnel since they cannot necessarily be relied upon to kill fellow Muslims. The mercenaries, who are based at the large Zayed Military City outside of Abu Dhabi, are commanded by ex-special forces officers from the United States, Britain, France, and Germany. R2 recruits mercenary personnel via an offshore pass-through company, Thor Global Enterprises, which is based in the British Virgin Islands. R2 mercenaries have been reportedly fighting as part of the Saudi-led coalition in Yemen's civil war against forces opposed to Saudi domination of Yemen. Prince uses the code name "Kingfish" in all communications and documentation related to R2.
Feinberg, a Trump supporter, controls Dyncorp through his firm Cerberus Capital, an investment firm that controls several Pentagon contractors. Dyncorp was the subject of several congressional and inspector general investigations in Washington, including its role in the sexual trafficking of children and women in Kosovo and Bosnia while supporting Pentagon and NATO operations in those countries.
After Prince changed the name of Blackwater to Xe Services in 2009, he sold it in 2011 to USTC Holdings, which eventually changed the name of the firm to Academi. The firm was, along with its competitor mercenary firm Triple Canopy, acquired by Constellis Holdings in 2014. The changing corporate names and ownership represented a typical Central Intelligence Agency corporate shell game. Academi continues to maintain Blackwater's original 7,000-acre military training facility in Moyock, in northeastern North Carolina.
Prince has long desired to see the Pentagon and CIA privatize its foreign military adventures to companies like Academi and R2. If Bannon and Kushner have their way, that desire may come to fruition in Afghanistan, now America's longest war.
During the George W. Bush administration, Blackwater was a major security contractor for the State Department, providing security personnel for US diplomatic posts worldwide. The State Department contract was rife with fraud. In sworn congressional testimony in November 2007, State Department Inspector General Howard "Cookie" Krongard at first denied his brother, former CIA Executive Director Alvin B. "Buzzy" Krongard, had any relationship with Blackwater. After the House Committee on Oversight and Government Reform produced documents proving that Buzzy Krongard had been invited the join Blackwater Worldwide's Advisory Board and had accepted the invitation and attended a Blackwater advisory board meeting in Williamsburg, Virginia a few hours before Howard Krongard's testimony, the State Department IG changed his testimony to avoid a perjury charge.
Blackwater was already under FBI and Justice Department investigations for the shooting deaths of 17 Iraqi civilians on September 16, 2007. The company was also under Justice Department investigation for the smuggling of weapons to Iraq. Some of the weapons reportedly ended up in the hands of various insurgent groups in Iraq. The major reason for the State Department, CIA, and Department of Defense to hire a firm like Blackwater was to hide from federal investigators and congressional committees covert US military operations abroad and even those within the United States during events like post-hurricane Katrina security operations in and around New Orleans.
The presence of Betsy DeVos in the Trump administration, along with the return of Prince to the highest corridors of power in Washington after his self-imposed exile in Abu Dhabi, has, once again, brought focus on the DeVos and Prince families ties to right-wing Republican politicians. The DeVos family has used various corporate entities, such as the Windquest Group, DP Fox Ventures, and Alticor, Inc. (formerly Amway), to funnel thousands of dollars to conservative GOP politicians and their political action committees. Prince has close ties to right-wing Christian evangelical political groups like the Family Research Council, as well as to the Mercer Family Foundation, the group headed by Rebekah Mercer, which gave financial and technical deep data-diving assistance to the Trump presidential campaign. The Mercers are the political patrons of Trump's chief strategist Stephen Bannon and Trump adviser Kellyanne Conway.
Dyncorp provided security services, under State Department contract, to Afghanistan's then-president Hamid Karzai and Haitian Presidents Rene Preval and Jean-Bertrand Aristide. The firm was believed to have participated in the 2004 CIA-initiated coup d'etat that deposed Aristide and the company may have had more than passing knowledge of financial corruption involving Karzai. Blackwater's Aviation division was involved in covert operations in not only Afghanistan, but also Kyrgyzstan, Pakistan, and Uzbekistan. On November 27, 2004, a Blackwater CASA 212, designated "Blackwater 61", crashed in a canyon in a remote part of Afghanistan. There were no survivors among the crew and passengers. The Blackwater pilot never filed a flight plan before it took off from Bagram airbase in route to Farah and the aircraft did not maintain a tracking system to locate the plane. The US National Transportation Safety Board (NTSB) later determined that the pilot and crew engaged in reckless conduct and multiple mistakes.
Among the passengers killed in the crash of Blackwater 61 was Army Lt. Col. Michael MacMahon, who left young children and a widow, Army. Col. Jeanette MacMahon. Col. MacMahon later wrote to the House Oversight Committee about the crash that killed her husband: "Some would say it was simply a tragic accident, and that accidents happen especially in a combat theater. But this accident was due to the gross lack of judgment in managing the company [Blackwater]… My impression of Blackwater after having served 10 months of my tour in Baghdad is that they are trigger happy, unrestrained by our army's rules of engagement, a danger to Iraqi civilians and coalition forces alike, behave as if they are above the law, are viewed as indiscriminate killers by the population, and have no business operating in a combat theater. The consensus among my peers is they are a liability, not an asset."
For the Pentagon and CIA, Blackwater Aviation was a return to the "Wild West" days of the reckless Air America, which flew every kind of cargo, from guns and chickens to high-grade heroin and commercial electronic goods, during the Indochina war. If Bannon, Feinberg, and Prince have their way, America's "drug store cowboy" mercenaries will be calling the shots again in Afghanistan and perhaps other current and future war zones around the world.
Reprinted with permission from the Strategic Culture Foundation.