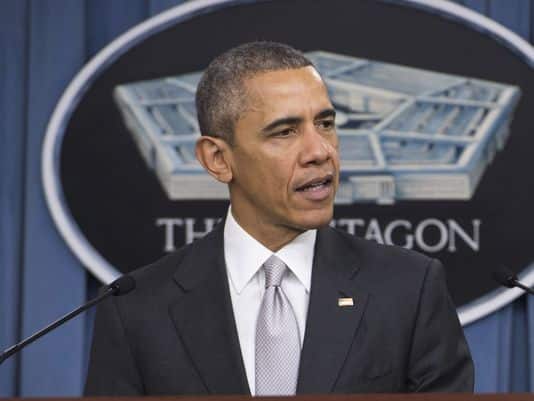 Some presidents grow in office and some presidents grow once out of office (Jimmy Carter comes to mind). But some presidents seem to learn very little during their four or eight year term. Unfortunately, especially when it comes to foreign policy, it seems President Obama falls into that latter category.
The president gave a press conference at the Pentagon today to update us on how the fight against ISIS is going. Remember: it is two years since Obama expanded what he promised would be a very limited military operation to save a religious minority — the Yazidis — from a hilltop in Iraq, into a full-fledged war in Iraq, Syria, and as of last week, Libya.
Two years ago this very week, in fact, President Obama informed the American people that he was launching "targeted airstrikes to protect our American personnel, and a humanitarian effort to help save thousands of Iraqi civilians who are trapped on a mountain without food and water…"
There was no chance of this very limited rescue operation expanding, he assured us:
As Commander-in-Chief, I will not allow the United States to be dragged into fighting another war in Iraq. And so even as we support Iraqis as they take the fight to these terrorists, American combat troops will not be returning to fight in Iraq, because there's no American military solution to the larger crisis in Iraq.
Two years later, the lies are laid bare. US troops are indeed fighting another war in Iraq, with the addition of wars in Syria and Libya to boot.
Today the president wanted to give us good news about his anti-ISIS efforts in Iraq and Syria. His efforts have made us more safe, he claimed: "I do think that because of our extraordinary efforts, a homeland is significantly safer than it otherwise would be."
But the president wanted us to know that things are not perfect. There are some bad actors who are hindering our efforts.
Singled out for condemnation in the president's address was not ISIS, or al-Qaeda, or even the US-backed Nour al-Din al-Zenki, which recently filmed itself beheading a young child. No, the real villain for President Obama is the Syrian government, which has been engaged in a five year battle with ISIS, al-Qaeda, and US-backed "moderates" who do things like cut off young boys' heads.
To Obama, the disaster in Syria is not the fault of the outside powers, who imported jihadis and even weapons from Libya (Hillary!) to overthow Syrian president Assad. It is all the fault of Assad for resisting the foreign-backed overthrow of his government! Indeed, even the act of fighting ISIS and al-Qaeda in his country earns Assad the condemnation of Obama:
In Syria, defeating ISIL and al-Qaeda requires an end to the civil war and brutality against the people, pushing them to extremes. The regime and its allies continue to violate the cessation of hostilities.
So the Syrian government is guilty of violating the "cessation of hostilities" by fighting al-Qaeda and US-backed groups that fight alongside al-Qaeda.
Indeed, to Obama the whole Syria disaster is the fault of Assad, who apparently woke up one morning and decided that the best way to keep power in Syria was to destroy his own country.
Said Obama:
We are very clear that Russia has been willing to support a murderous regime and an individual who has destroyed his country just to cling to power.
Whatever one thinks of Assad, what world leader would not resist a foreign-backed insurgency aimed at overthrowing the constitutional order? Would Obama? The mere rumor that the Russians might have had a peep at the DNC's "cheat Bernie Sanders" grand strategy and the entire Democratic Party is ready to launch World War III against Russia!
But, finally, Obama assures us that try as he constantly does, he just sees no option other than our current hyper-interventionism in the Middle East:
I am pretty confident that a big chunk of my gray hair comes out of my Syrian meetings. There is not a meeting that I don't end by saying is there something else we could be doing that we haven't done? Is there a plan F, G, H that we think would lead to a resolution of the issue so that the Syrian people can put their lives back together and we can bring peace and leave the refugee crisis that has taken place?
Well, Mr. President, you must not be trying all that hard, because the answer is as obvious as the gray that has overtaken your hair: just go home. Leave Syria alone. Stop trying to change regimes.