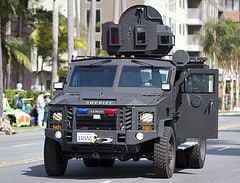 Mother Jones reports that Concord, NH Police Chief John Duval has backed off his outlandish suggestion that his police department needs a Lenco Bearcat G3 to fend off the terrorism threat posed by the Free State Project and Occupy New Hampshire. Duval had made the claim in his application for a $250,000-plus grant to purchase the armored vehicle that Free State Project President Carla Gericke simply calls a tank.
Of course, Duval still wants his Bearcat nonetheless—even if he does have to amend his application. You see, several other New Hampshire police departments already have the armored vehicle, the Bearcat looks really neat in the advert video with AC/DC's "Thunderstruck" playing. And, somebody else is willing to pay for it! Nothing moves the demand curve like "it's free".
We can thank the American Civil Liberties Union for bringing the application into the light. The Mother Jones article explains:
The application was obtained by the New Hampshire Civil Liberties Union (NHCLU) through a public records request, and is one of more than 250 filed by the American Civil Liberties Union to track what it sees as the increasing militarization of police departments throughout the country.
With the application now public, opposition is mobilizing. Gericke has written to Duval a public letter including demands for a written apology and removal of all references to "Free Staters" in the application. Occupy New Hampshire is meeting tonight regarding the application. The publicity will also allow individuals to attempt to influence the Concord city council members, whose August 12 meeting includes in its agenda a resolution regarding acquisition of the Bobcat.
Maybe Concord, New Hampshire will be the turning point in the decades-long rise of SWAT.
Flickr/San Diego Shooter