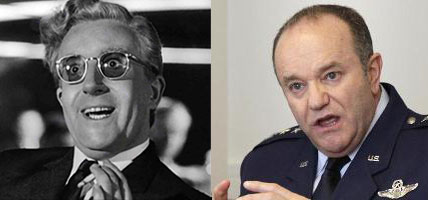 What happens when a close friend starts acting so bizarrely that you need to gently extract yourself from his ravings lest you be tarred with the same brush -- or worse? That is the position in which Germany is increasingly finding itself, as the US government's strange pronouncements about Ukraine are getting too much to bear. The German establishment magazine Der Spiegel has just published a very important article, "Breedlove's Bellicosity: Berlin Alarmed by Aggressive NATO Stance on Ukraine," that lifts the lid on what official Germany really thinks about the US neocon push to war with Russia over Ukraine.

Der Spiegel starts by recalling an event last Wednesday. It was a time when the "Minsk II" ceasefire agreement had produced relative calm throughout eastern Ukraine. The weaponry was being withdrawn and an encouraging, if imperfect, ceasefire was holding. The deal, brokered personally by the German, French, Russian, and Ukrainian leadership, was producing results. Yet on that very day, NATO's Supreme Allied Commander for Europe (SACEUR), the American General Philip Breedlove, was spinning a completely different yarn.

As the magazine reports:
On that same day, General Philip Breedlove, the top NATO commander in Europe, stepped before the press in Washington. Putin, the 59-year-old said, had once again 'upped the ante' in eastern Ukraine -- with 'well over a thousand combat vehicles, Russian combat forces, some of their most sophisticated air defense, battalions of artillery' having been sent to the Donbass. 'What is clear,' Breedlove said, 'is that right now, it is not getting better. It is getting worse every day.'
To the Germans -- senior partners in NATO -- Breedlove was making it up. The German foreign intelligence agency, Bundesnachrichtendienst (BND), simply "did not share the view" of the top NATO Commander, reported the magazine.



German foreign minister Frank-Walter Steinmeier was so alarmed, reports the article, that he found it necessary recently to bring up Breedlove's comments with the US General's boss, NATO General Secretary Jens Stoltenberg



As Germany expends plenty of political capital seeking a political solution to the conflict in Ukraine, the US government

— 

through "super-hawks" like General Breedlove

—

 is actively seeking to undermine all European efforts. 

Writes the German magazine:
[F]or months now, many in the Chancellery simply shake their heads each time NATO, under Breedlove's leadership, goes public with striking announcements about Russian troop or tank movements. ... False claims and exaggerated accounts, warned a top German official during a recent meeting on Ukraine, have put NATO

—

 and by extension, the entire West

—

 in danger of losing its credibility.
But it is not only German intelligence that is perplexed by US military officials' increasingly bellicose pronouncements on Russian involvement in eastern Ukraine. Even American intelligence officers who regularly brief their German counterparts have no idea whence top military leadership is getting its information.

For example, as the German and French-led ceasefire talks were underway in Minsk, US Lieutenant General Ben Hodges claimed that Russia "had moved 50 tanks and dozens of rockets across the border into Luhansk" and announced a "direct Russian military intervention" in the east Ukraine.

After such a pronouncement by a senior US military official, according to Der Spiegel...
...senior officials in Berlin immediately asked the BND for an assessment, but the intelligence agency's satellite images showed just a few armored vehicles.
American intelligence officers agreed, according to the German magazine:
Even those American intelligence officials who supply the BND with daily situation reports were much more reserved about the incident than Hodges was in his public statements. One intelligence agent says it 'remains a riddle until today' how the general reached his conclusions.
It remains a riddle.

Breedlove is even lying about what the OSCE monitoring team is observing in east Ukraine. His claim in November that the OSCE backed him up that "

columns of Russian equipment -- primarily Russian tanks, Russian artillery, Russian air defense systems and Russian combat troops" were "entering into Ukraine," was in fact explicitly at odds with the OSCE assessment. The OSCE at the time had only observed military convoys within eastern Ukraine, not entering east Ukraine from Russia. 



The German magazine points out that NATO's lack of its own intelligence capabilities means that Breedlove and other US generals can pick and choose

—

 cherry pick

—

 what information from member country intelligence services provide to the Alliance. This sounds quite a bit like the neocons' "cherry picking" operation that led us into war with Iraq. 

The other European NATO ambassadors are worried about Breedlove, writes the magazine. Last Tuesday, "Breedlove's public appearances were an official item on the agenda of the North Atlantic Council's weekly lunch meeting. Several ambassadors present criticized Breedlove and expressed their incredulity at some of the commander's statements."

Breedlove is not alone in his embarrassing delusions about the Ukraine situation, reports the magazine. Assistant Secretary of State Victoria Nuland, a former aide to Dick Cheney, told the US delegation to the recent Munich security conference that Europe was the real enemy. "We can fight against the Europeans, fight against them rhetorically," she is reported to have said. Considering the top State Department's diplomat for Europe's on record colorful dismissal of European diplomacy, it is not all that difficult to believe her view of European efforts to solve the Ukraine crisis through diplomacy rather than through US weapons.

Nuland advised the American delegation to the Munich security conference to mislead about the situation in eastern Ukraine, to make Russia look like the aggressor. She told them:
While talking to the Europeans this weekend, you need to make the case that Russia is putting in more and more offensive stuff while we want to help the Ukrainians defend against these systems...
Spin spin spin. They are lying again. Nuland and her husband Robert Kagan lied us into the Iraq war, and with deranged officials like Gen. Breedlove they are in the process of lying us into what may be a nuclear world war with Russia. 

And anyone who stands up to them and their lies is accused of being "in the pay of the Kremlin." Will Americans be fooled again by the neocons, now that so much is at stake?
---