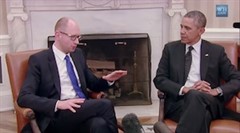 Even as a shaky ceasefire holds in east Ukraine between pro-independence and US-backed government forces from Kiev, details begin to emerge of secret agreements made on the margins of last week's NATO summit in Wales that will escalate the conflict. 

While NATO as a whole could not agree unanimously (as required) to provide lethal aid to Kiev government forces, individual member governments reportedly signed bilateral agreements to provide such assistance. Which member states agreed to such aid was not made public...until yesterday.

A spokesman for US-backed Ukraine president Petro Poroshenko revealed:
At the NATO summit agreements were reached on the provision of military advisers and supplies of modern armaments from the United States, France, Italy, Poland and Norway.
Immediately after the statement, Washington began issuing denials culminating in a delicately-worded statement from Defense Secretary Hagel that he was "not aware" of any secret deal. He later denied that there was such a deal.

Either Poroshenko and his aide were lying or they revealed what was to be kept secret. Presumably were it the latter, the need for secrecy would stem from the fact that such transfers would likely violate President Obama's own Presidential Policy Directive for US Conventional Arms Transfer, and possibly would violate US law.

Whatever the case and whoever the suppliers, it cannot be denied that NATO member state provision of weapons to one side in the conflict represents an escalation and a grave intervention in an internal conflict.

Meanwhile, several days into the ceasefire, western governments, intelligence agencies, and media have not located the several thousand regular Russian troops and vehicles they claimed were fighting in Ukraine. With the influx of OSCE monitors and the possibilities that ceasefire provides for observation, either the presence of these thousands of Russian troops or their transfer back to Russia would likely have been observed.

Was it another lie?

Finally, for what are those new western weapons to be used by the Kiev government? Overnight, shelling was reported in Donetsk, which is controlled by the pro-independence forces. Was the ceasefire in the face of enormous setbacks for the Kiev forces just a ruse to regroup, gain an influx of arms from the west, and re-start the battle in the east?
---