As Brown Noses points out on Twitter, it appears as if US aid has arrived to Syria, courtesy of USAID. Isn't it nice to see that the money extorted from Americans and sent to "moderates" in Syria is being put to use building shelters for al-Qaeda and their US-supplied anti-tank rockets: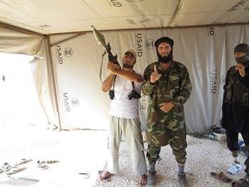 Meanwhile, hundreds of Syrians held hostage in Homs have finally been able to evacuate the rebel-held city. This as confidence-building measures arising from the Geneva II talks, which have resumed today, bear limited fruit. UN aid convoys approaching Homs have come under fire, however.

Civilians in rebel-held towns are in particularly dire situations, as food is in short supply. In other towns occupied or attacked by rebels it is reported that the al-Qaeda policy of "convert, flee, or die" has claimed hundreds of lives, with dozens in cities like Adra have reportedly been burned alive in bakery ovens.


---