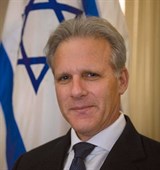 The outgoing Israeli Ambassador to the US is worried about what we are doing here at RPI.

Ambassador Michael Oren, who was born in New Jersey, has top academic credentials, plenty of foreign policy experience, and really gets around. He grew up in the US and while an American he served in the Israeli Army; fought in the Israeli invasion of Lebanon in 1982; served as Israeli liaison to the US Sixth Fleet; was President George W. Bush's special American envoy to Israel's 60th birthday celebration; taught at Harvard, Yale, Georgetown, Hebrew University of Jerusalem, University of Tel Aviv.

He finally had to give up his US citizenship in 2009, when he became Israel's Ambassador to the US. In that position, he wrote a controversial 2010 piece in the New York Times, after the Israeli assault on the "peace flotilla" Mari Marmara, blaming the peace activists on board for their massacre at the hands of the Israeli Defense Forces. It was an attempted provocation, he wrote. When former US President Jimmy Carter criticized the Israeli attack on the Mavi Marmara, Oren replied that the former president was "deeply, morally corrupt and distorted."

Now, as he leaves the US after some 50 months as ambassador, Oren sees plenty of changes in the mood of the United States of late. In an exit interview with the Jerusalem Post, he was asked by that hawkish publication about the "rising isolationist mood" in the US. "Isolationist," of course, is the neoconservative pejorative for "non-interventionist."

Ambassador Oren's response suggests he is perhaps familiar with the excellent work of Mondoweiss, Antiwar.com, LewRockwell.com, Glenn Greenwald. And, who knows, he might even be familiar with a certain young upstart Institute whose mission is to ignite a broad coalition beyond Left and Right against war and interventionism.

Answered Ambassador Oren when asked about "rising isolationism" in the US:
It is something I have been aware of for a long time. I have been talking about it for at least a year – particularly the connection between the progressives and the libertarians.

It is not only on our issues; it is on issues relating to American use of drone strikes, the IRS, Egypt aid. It is on a whole spectrum of issues.
Yes, Mr. Ambassador. A new wind is blowing. Our numbers are growing. Left and Right. Black and white. Jewish, Christian, Muslim, Atheist.


---