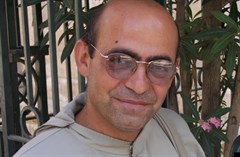 Thanks to RPI contributor Pat Lang for putting a face to the victim of the US-backed Syrian rebels' latest ghastly atrocity. Father Francois Murad was a Franciscan priest who had been in hiding since the monastery he was building in Syria came under attack from the US-allied rebels. Accused of collaborating with the Syrian government, Father Murad was beheaded with what appears a small kitchen knife, as his attackers yelled "Allah Akbar."

According to Catholic Online, which has uploaded the gruesome video of Father Murad being beheaded, "The Vatican is confirming the death by beheading of Franciscan Father, Francois Murad, who was martyred by Syrian jihadists on June 23."

Archbishop Jacques Behnan Hindo, titular of the Syrian Catholic archeparchy in Hassaké-Nisibis reports to the Vatican News Agency,  Fides: 
"The whole story of Christians in the Middle East is marked and made fruitful by the blood of the martyrs of many persecutions. Lately, father Murad sent me some messages that clearly showed how conscious he was of living in a dangerous situation, and offered his life for peace in Syria and around the world. "
Incapable of admitting the failure of its "regime change" policy of violent intervention and subversion, the US government is doubling down on its support of some of the most violent monsters ever to take up arms.

The idea that once these individuals finally overthrow the Assad regime in Syria they are going to adopt Western values and a democratic approach to governance is so blatantly absurd that no further comment is necessary.

Copyright © 2013, The Ron Paul Institute for Peace and Prosperity. Permission to reprint in whole or in part is gladly granted provided full credit is given and a live link provided.
---