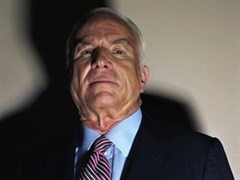 Sen. John McCain is furious with President Obama. Even though the president's bellicosity over a relatively insignificant piece of land more than 5,000 miles away threatens not only our terminally ill economy but actually threatens World War III, McCain still views the president as weak and accommodating. We should be at war already, dammit!

At least an overt proxy war, that is.

Today McCain released a statement attacking President Obama for reportedly refusing a request by the coup-installed prime minister of Ukraine, Arseniy "Yats" Yatsenyuk for arms, ammunition, and intelligence support.

Sen. McCain:
The United States should not be imposing an arms embargo on a victim of aggression. Putin's Russia has invaded Ukraine and is planning to annex Crimea. Russian forces are massing on Ukraine's border, raising concerns of a widening military intervention. Now is the time to show the Ukrainian government and people that the United States stands with them in their hour of greatest need.
Readers should be clear: McCain here demands US-provided weapons to be used to attack the Russian military. McCain wants to see Russian soldiers killed with weapons and battlefield intelligence provided by the US government. Does that make you feel safe?

McCain wants Obama to start World War III.
---