Tuesday August 23, 2016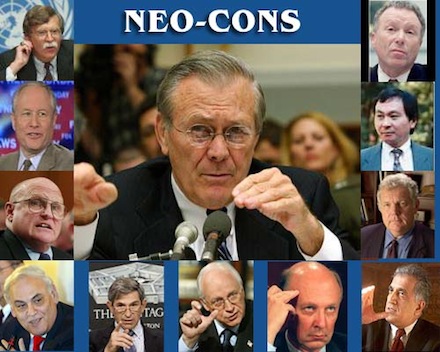 The neoconservatives were the driving force in the George W. Bush administration's war on Iraq and, in so doing, went a long way toward forming US policy in the Middle East that has continued under Obama. 

Neoconservatism emerged at the tail end of the 1960s as some individuals, predominantly pro-Zionist Jewish intellectuals, became disenchanted with the more radical turn of mainstream liberalism, which among other things, they believed, had become threatening to Jewish interests, including Israel. 

After failing in efforts to convert the Democratic Party to their thinking, the neocons would switch from the Democratic Party to the Republican Party as Ronald Reagan became president in 1980 and would play a significant role in pushing the Reagan administration's hardline anti-Soviet foreign policy. With the demise of Soviet Communism, the neocons' foremost concern became Israel and the Middle East. 

 Before the beginning of the George W. Bush administration in 2001, the neocons had developed plans for reconfiguring the Middle East, involving the use of military force to replace dictatorial regimes with democracies. Not by happenstance, the targeted dictatorial regimes were staunch enemies of Israel, and included Iraq, Iran, Syria, and even Saudi Arabia. The neocons planned to begin with Saddam's Iraq, seen as the weakest link, the elimination of which would pave the way for regime change elsewhere.
read on...