Saturday October 29, 2016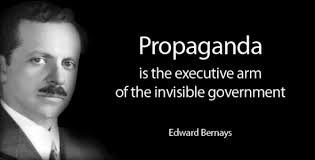 American journalist Edward Bernays is often described as the man who invented modern propaganda. The nephew of Sigmund Freud, the pioneer of psychoanalysis, it was Bernays who coined the term "public relations" as a euphemism for spin and its deceptions.

In 1929, as a publicist for the cigarette industry, Bernays persuaded feminists to promote cigarettes for women by smoking in the New York Easter Parade – behavior then considered outlandish. One feminist, Ruth Booth, declared, "Women! Light another torch of freedom! Fight another sex taboo!"
read on...