Tuesday January 21, 2014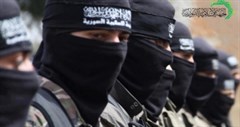 On the eve of the international Middle East peace conference scheduled to take place January 22 in Geneva, the situation in Syria has again abruptly taken a turn for the worse. Various groups of Islamists have entered into a fierce armed conflict. Casualties on both sides have already greatly exceeded 1000 people.

The troublemaker was the Islamic Front (IF), formed around two months ago from several groups and numbering approximately 50,000-60,000 fighters. On January 3 its troops attacked armed groups from the Islamic State of Iraq and Syria (ISIS), which has proclaimed itself part of al-Qaeda and is estimated to number up to 22,500 fighters, in several places… 

It was immediately obvious that it was on the IF that the West had placed its bets in the Syrian civil war after the Free Syrian Army (FSA) lost its fighting effectiveness in conflicts with government troops. In early December 2013 the leaders of the IF met with U.S. and British representatives in Ankara, mediated by Qatar; here, in the opinion of experts, they were promised military assistance and participation in the division of power in exchange for forcing "open al-Qaedaites" out of the country.
read on...