Thursday March 12, 2020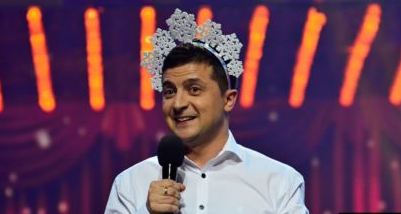 Volodymyr Zelensky used to play a school teacher on a hit Ukrainian TV show called "Servant of the People." The premise was simple: a video goes viral of the teacher sounding off about corruption and, before you know it, he's elected president. The program did so well that Zelensky formed a political party called "Servant of the People," ran for president against incumbent Petro Poroshenka, and won election by a margin of three to one – not on TV, but for real. Evidently, life imitates art so perfectly in the Ukraine that it's sometimes hard to tell where one begins and the other leaves off.



At least that's the way it used to be. Now reality is leaving comedy behind as it veers off in a distinctly nightmarish direction. Zelensky's troubles have been mounting since the fall when he found himself caught in the middle of a Washington psychodrama over whether Donald Trump tried to pressure him into investigating Joe Biden after a Ukrainian oligarch hired Biden's son, Hunter, for a high-paid, no-show job.

Zelensky got himself into more hot water a few weeks later by coming out in favor of special elections in the Ukrainian east where a pro-Russian revolt is now in its seventh year. Backed by German neo-Nazis, some 12,000 ultra-rightists poured into the streets of Kiev, shouting anti-Semitic epithets at a Jewish president they accused of betraying the country to Moscow.
read on...