Wednesday August 11, 2021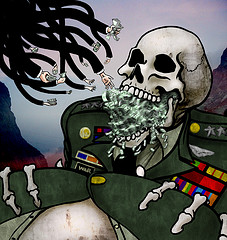 Imagine a country where there's no separation between the government, the military, and the media. A lot of Americans would think of China, Russia or North Korea, but it's a perfect description of the United States today. And here in Washington, the think tank inside this nondescript building – Center For A New American Security (CNAS) – is the clearest example of just that.

CNAS is a premier militarist think tank in the nation's capital, especially for Democratic Party administrations. It is funded by the State Department and Pentagon and has taken more money from weapons companies over the last several years than any other think tank. On top of that, it's funded by oil companies, big banks, and right wing governments – basically the most destructive forces on the planet.

For President Joe Biden, CNAS serves as a farm, from which key positions in his administration are cultivated. In fact, at least 16 CNAS alumni are now in key positions in the Biden Pentagon and State Department.
read on...