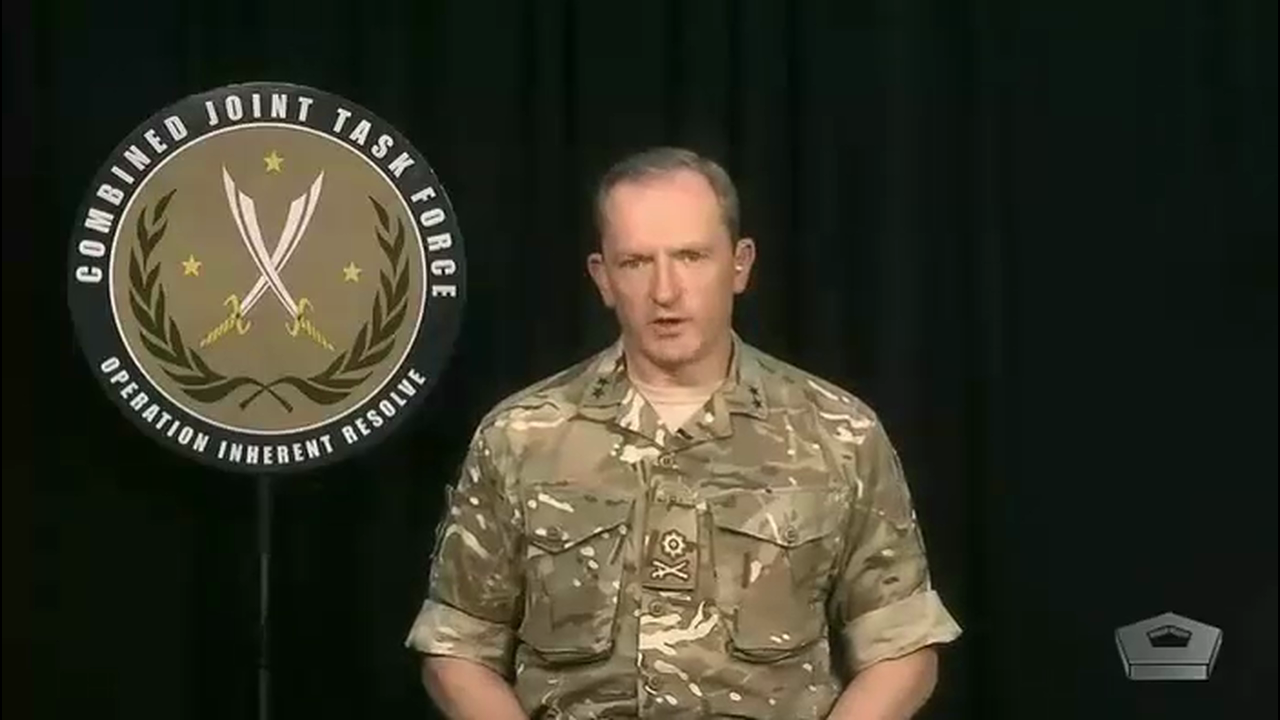 An awkward public exchange unfolded between the US military and its closest allied military coalition force during a Pentagon press conference on Tuesday wherein a top British commander in charge of anti-ISIS coalition forces rebuked White House claims on the heightened Iran threat.

"No – there's been no increased threat from Iranian-backed forces in Iraq and Syria," British Army Maj. Gen. Christopher Ghika, a deputy head of the US-led coalition, asserted confidently in a videolink briefing from Baghdad to the Pentagon in response to a CNN question. "We're aware of that presence, clearly. And we monitor them along with a whole range of others because that's the environment we're in. We are monitoring the Shia militia groups. I think you're referring to carefully and if the threat level seems to go up then we'll raise our force protection measures accordingly."

The British commander's words prompted a rare and swift rebuke from the US side hours later into the evening when US Central Command (CENTCOM) issued its own statement slamming Gen. Ghika's words as inaccurate, insisting coalition troops in Iraq and Syria were an a "high level of alert" due to the "Iran threat".

"Recent comments from OIR's deputy commander run counter to the identified credible threats available to intelligence from US and allies regarding Iranian-backed forces in the region," the CENTCOM statement said.

"US Central Command, in coordination with OIR, has increased the force posture level for all service members assigned to OIR in Iraq and Syria. As a result, OIR is now at a high level of alert as we continue to closely monitor credible and possibly imminent threats to US forces in Iraq."

"No. There's been no increased threats from ... etc"
British general Combined Joint Task Force #OIR May 14#Iraq #Iran #Syria Christopher Ghika pic.twitter.com/5sg4AFfsMO

— M27 (@M27Unchained) May 14, 2019
The US statement went so far as to imply the British general didn't have a grasp of troop readiness and the state of alert of the very soldiers under his command.

And further, it's saying something when you've even lost The Guardian, which has over the past years sought to crush any level of dissent or skepticism of the western mainstream narrative on Syria. The Guardian noted:
The remarkable comments heightened concerns that fabricated or exaggerated intelligence may be being used by administration hawks led by the national security adviser, John Bolton, to further the case for war against Iran, in a manner reminiscent of the buildup to the Iraq invasion.
The incredible public clash among allies came as the USS Abraham Lincoln carrier strike group is en route to the Persian Gulf, along with a B-52 bomber group monitoring the air from Qatar, and new Patriot missile batteries.

Also overnight the State Department ordered the immediate evacuation of all non-essential personnel from the US embassy in over unspecified Iranian threats.

Washington and Tehran have recently exchanged threats of direct conflict while jostling to assert control over the vital Strait of Hormuz narrow oil shipping passage, which has further left global oil markets on edge and rattled.

The military build-up is claimed to be in response to intelligence the White House says confirms that US troops face imminent threat of attack by Iran and its regional proxy forces in places like Iraq, Syria, and the gulf.

Reprinted with permission from ZeroHedge.
---