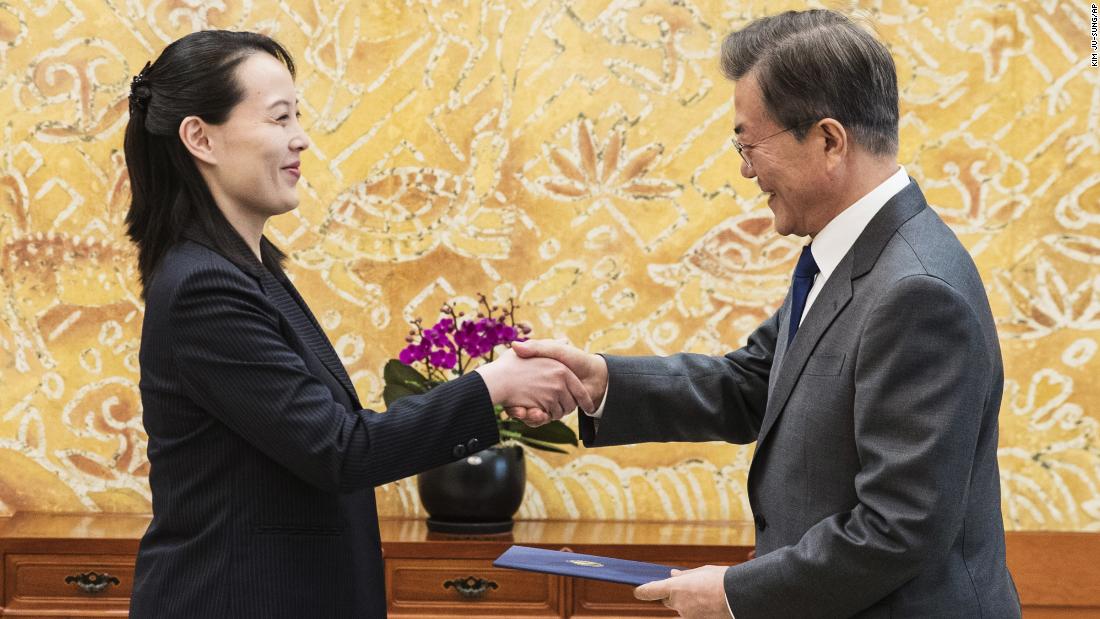 The North Korean leader Kim Jong-un has upset all doomsday predictions that once the Winter Olympics Games are over, the tensions on the Korean peninsula would reappear. Kim's invitation to South Korean President Moon Jae-in to Pyongyang can be regarded as a "game changer." Moon has been non-committal, saying conditions need to be created first. The important thing is that Moon neither accepted Kim's invitation nor declined. As a senior South Korean official put it, Moon has "practically accepted" the invitation. Thereby hangs a tale.

Left to himself Moon may want to visit Pyongyang. But a number of factors come into play. First and foremost, North Korea should refrain from missile tests, especially nuclear tests. Kim's invitation to Moon implies that Pyongyang intends to hold back on missile and nuclear tests even after the Winter Games get over. On the contrary, if the joint US-South Korean military drills resume, all bets are off.

Therefore, Moon faces the daunting challenge of persuading the Trump administration to defer military drills. Now, that is not going to be easy. The US insists that North Korea should unilaterally suspend its missile and nuclear tests and does not accept any linkage with the US-South Korean military drills. Indeed, the sensible thing to do is to follow the suggestion by China and Russia on "double suspension" – ie., US and South Korea suspending military drills and North Korea reciprocally suspending missile and nuclear tests.

China can be expected to play a major role here in bridge-building. Xinhua news agency reported that during the visit by Chinese State Councilor Yang Jiechi to Washington on February 8-9, he "exchanged ideas on the nuclear issue on the Korean peninsula." Yang was received by President Trump and he also had meetings with Secretary of State Rex Tillerson, National Security Advisor HR McMaster and the president's senior advisor and son-in-law Jared Kushner. Xinhua cited Yang as calling for "global support for the inter-Korean rapport in a bid to maintain the tension-easing momentum on the peninsula." Yang said Beijing hopes to keep "communication and coordination" with Washington with a view to seek a solution to the North Korean issue.

Significantly, Chinese president Xi Jinping also deputed a special envoy to meet Moon in the weekend. Accordingly, on Saturday Han Zheng, a member of the Standing Committee of the Political Bureau of the Communist Party of China Central Committee, met Moon. (Moon received Han before hosting a lunch for the high-ranking North Korean delegation led by Kim Yong Nam, president of the Presidium of the Supreme People's Assembly on Saturday.) Xinhua reported Han as voicing support for the "conciliation and cooperation" between North and South Korea and expressing hope that "relevant parties would meet each other half way and make joint efforts to further ease tensions"

While things look hazy as of now and it is difficult to foresee how things may work out, the odds are that Moon will visit Pyongyang eventually. Put differently, South Korea may not be in a tearing hurry to resume the military drills with the US anytime soon. According to reports, Moon already had a testy exchange with the Japanese Prime Minister in the matter. They sparred, with Moon bluntly rejecting Abe's call to resume the US-South Korean military drills without delay.

Meanwhile, the popular opinion in South Korea is visibly changing. It turned out to be a brilliant maneuver on the part of the North Korean leader to depute his younger sister Kim Yo Jong as part of the high-level delegation to attend the opening ceremony of the Winter Olympics. She is the first member of the ruling family in Pyongyang to visit the South since the Korean War broke out in 1950, and South Koreans were enthralled. Clearly, North Korea's participation in the Olympics has already broken the momentum of the US' pressure campaign. Some sanctions against North Korea are already suspended temporarily until the Winter Olympics ends. The big question is whether the US' pressure campaign can be resumed in the changed climate between the two Koreas.

Moon is walking on eggshells. Surely, he won't want to miss the window of opportunity for a peace engagement with Kim. But then, it is far too risky to go to Pyongyang unconditionally. By going out on a limb, not only would Moon be angering the Trump administration, but the reality is that Kim has not given any signals so far that he is willing to discuss denuclearization. Equally, it could be that Kim is simply buying time for this country's nuclear weapon program. Above all, US backing is vital for Moon to negotiate with Kim.

However, Washington is not exactly pleased about the recent improvement in inter-Korean ties. There are already signs of discord in the US-South Korean alliance. Read a dispatch by Associated Press – Pence's bid to isolate North Korea at Olympics falls flat.

Reprinted with permission from Indian Punchline.
---