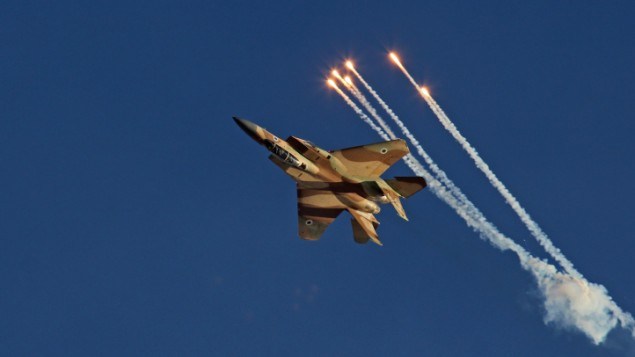 The Israeli air attacks on Friday near Palmyra in Syria targeting what Tel Aviv claims to be a convoy ferrying weapons for Hezbollah in Lebanon – and what Damascus alleges was a calculated act directed against the positions of the government forces fighting the Islamic State active in the region – cannot be regarded as a "stand-alone" event.

On the face of it, the Israeli claim lacks credibility since Palmyra is twice removed from the Syrian-Lebanon border in terms of geographical proximity. Possibly, Syrian government has a point that the Israelis were deliberately targeting its forces. This explains why Russian Foreign Ministry called in the Israeli ambassador in Moscow on the same day and sought explanation.

Evidently, some "ground rule" as per the unwritten Russian-Israeli understanding over Syrian frontlines has been breached and Moscow took note. In previous instances when Israel attacked Hezbollah – even assassinating its top commanders fighting on Syrian frontlines – Moscow had looked away. But this time around, it promptly signaled displeasure. It stands to reason that Israel crossed some "red line."

At first, Moscow did not publicise its demarche. But then, Israeli Defence Minister Avigdor Liberman flew off the handle on Sunday with a belligerent remark that Israel "will not hesitate" to destroy Syria's air defence systems if that country ever again targeted attacking Israeli jets. It was an illogical statement insofar as Israel insists it can violate Syrian air space but Damascus has no right to defend. Liberman also held a veiled threat saying, "We do not want to clash with the Russians."

Whereupon, on Monday, Moscow disclosed that it had made a demarche. Curiously, the Israeli ambassador had presented his credentials at the Kremlin only the day before he received the summons. As far as diplomatic practices go – and Russians are seasoned practitioners – Moscow made a strong point.

Interestingly, Israeli PM Benjamin Netanyahu had visited Moscow recently with a focused mission to get Russia to dump its alliance with Iran in Syria. From Russian commentaries, it appears he got a short shrift in the Kremlin. (Read a hilarious piece, here, by Israel Shamir.) One likelihood is that Netanyahu showed irritation over the snub. By the way, Liberman is an ethnic Russian Jew.

By making the demarche, Russia inserted itself into what Israel pretended to be a standoff with Damascus, and has warned Israel not to escalate. On the contrary, Israel may have much to be gained through escalation. Consider the following.

Israel is watching with growing despair that Iran has emerged as the "winner" in the Syrian conflict. Israel's proxies – al-Qaeda affiliates and other extremist groups – are facing defeat. Its plans to create a "buffer zone" in Syrian territory straddling the Golan Heights are in shambles. Israel's illegal occupation of Golan Heights may come under challenge if Iranian/Hezbollah militia resort to the politics of "resistance."

Israel anticipates that Iran will establish a permanent presence in Syria. There are reports that Syrian President Bashar al-Assad has given go-ahead for an Iranian naval base in Latakia, close to the Russian airbase at Hmeymim. If that happens, Iran will be in an even stronger position than before to build up Hezbollah (and Syria and Lebanon) as the bulwark of 'resistance' against Israel.

Meanwhile, Hezbollah is also emerging as a more capable fighting force after the baptism under fire in Syria. Hezbollah has a massive stockpile of tens of thousands of rockets and missiles – some estimates put the number as 100000 – targeting Israel, which deterred an Israeli attack on Lebanon for the past ten years. Israel has no answer to the missile threat from Hezbollah. As an Israeli commentator put it:
Sending special infantry units to search for rocket and missile launch sites on the ground is a lot like looking for a needle in a haystack. Israel tried to do this in the second Lebanon war (2006) with no real results. What this means is that the only option left to Israel is an immediate, dramatic and aggressive attack against all of Lebanon's vital infrastructure, or as Israeli officers and senior Israeli officials have been describing for the past decade, 'sending Lebanon back to the Stone Age.'
The catch here is that Hezbollah is not spoiling for a fight with Israel, but it will hit back if attacked. Israel tried repeatedly to provoke Hezbollah, but the latter kept cool, given the overriding priorities of the Syrian conflict where it plays a major role in the ground fighting. Hezbollah Secretary-General Hassan Nasrallah listed recently that targets in Israel include the ammonia plant in Haifa, the nuclear reactors in Dimona and Nahal Sorek, Rafael Advanced Defense Systems weapons development facilities and so on.

The short point is, Israel is desperately keen to somehow get the US directly involved. Israel will not hesitate to precipitate a US-Iranian confrontation. How far President Donald Trump would play ball with Netanyahu is a moot point. Israel may simply create a new fact on the ground whereby US intervention becomes unavoidable. Russia probably senses that.

Reprinted with permission from Indian Punchline.
---