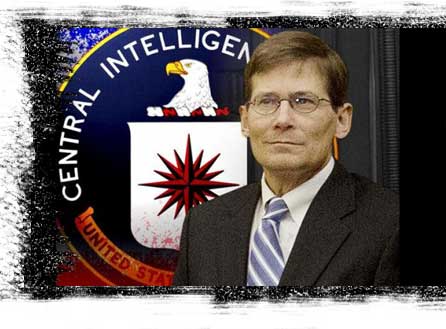 "No doubt Putin is playing Trump!" Yes, former CIA Deputy Director Mike Morell is indeed at it again. During the presidential campaign he repeatedly attacked Donald Trump as an "unwitting agent of the Russian Federation." In the same vein, anonymous CIA officials have supposedly provided evidence of our new president's nefarious dealings with the Kremlin and its agents.

Didn't Trump's own lawyer, Michael Cohen, meet in Prague with a Kremlin agent in August 2016? And isn't this final proof of the ongoing secret liaisons between the tycoon and the tyrant? '​Fraid not. But it is déjà vu. Fifteen years ago, Morell vetted and took to the White House, a preliminary report that 9/11 hijacker, Mohamed Atta, met with an Iraqi intelligence officer, Ahmad Samir, Al-Ani at the Iraqi embassy in Prague on April 9, 2001. Both reports have turned out to be bogus.

On August 6, 2001, Morell served as the CIA debriefer for President Bush's most critical ever Presidential Daily Briefing (PDB); the one that read, "Bin Laden Determined to Strike in the U.S." It was essential that he impress upon Bush the importance of the memo. But he didn't. Morell recollected in his memoir that NSC staffer Steve Biegun, who accompanied Morell to the Crawford Ranch where Bush was vacationing, apparently relayed to others that he, Morell, had indicated to the president, "there was no need to worry about an Al Qaida attack on the homeland..." Morrell himself directly observed that in retrospect, "I did not treat it as a 'hair on fire' or action-forcing piece and the president did not read it that way either."

Surely Bush was not given the assessment that Morell's colleague, counter-terrorism expert, Cofer Black, gave to Condoleezza Rice weeks earlier: "An attack is impending" and "this country needs to go on a war footing now." On 9/11, close to 3,000 people perished in attacks on both New York and Washington.

The 2003 Iraq War provided an opportunity for Morell to advance his career. Leading a group of CIA analysts, he was assigned to help prepare Secretary of State Colin Powell's February 5 U.N. Security Council speech.

Justifying the forthcoming invasion of Iraq, a passage in the speech affirmed that Iraq possessed "biological weapons and the capability to rapidly produce more, many more." False! We still don't know who was directly responsible for leaving this passage in Powell's speech. However, Morell was in charge of the CIA analysts who were vetting it. In 2015, Morell apologized to Powell.

Fair Use Excerpt. Read article here.
---