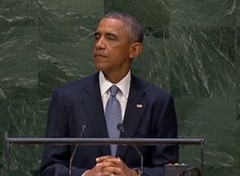 Want to decipher what the US military is really doing in Iraq and Syria, or figure out whether its regional war against the Islamic State (Isis) is legal? Good luck. The Obama administration's secret efforts to redefine the ordinary meaning of key legal terms and phrases has made that near impossible.

For instance, in his Tuesday statement that US airstrikes that have expanded into Syria, Obama studiously avoided any discussion about his domestic legal authority to conduct these strikes. That dirty work was apparently left up to anonymous White House officials, who told the New York Times's Charlie Savage that both the Authorization of Use of Military Force (AUMF) from 2001 (meant for al-Qaida) and the 2002 war resolution (meant for Saddam Hussein's Iraq) gave the government the authority to strike Isis in Syria.

In other words: the legal authority provided to the White House to strike al-Qaida and invade Iraq more than a dozen years ago now means that the US can wage war against a terrorist organization that's decidedly not al-Qaida, in a country that is definitely not Iraq.

It's been weeks since initial air strikes began, and the administration has still refused to release a detailed written legal rationale explaining how, exactly, that works.

Fair use excerpt from the Guardian newspaper. Read entire article here.
---