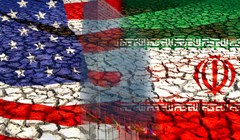 The year 2013 was, for many reasons, an important year for the Islamic Republic of Iran, for U.S.-Iranian relations, and for the Middle East more generally.  Looking back, one thing which strikes us as especially important is that, during 2013, the failures of U.S. grand strategy in the Middle East (and the gradual implosion of America's position in the region) became evident even to some who were too analytically obtuse or ideologically reluctant to notice it earlier.

President Obama's largely self-inflicted debacle over his declared intention to attack Syria after chemical weapons were used there in August was particularly crucial in this regard.  It is no accident that the Obama administration became at least superficially more interested in diplomacy after this episode.  For Obama's flailing over Syria underscored that, after strategically failed military interventions in Afghanistan, Iraq, and Libya, the United States cannot now credibly threaten the effective use of force for hegemonic purposes in the Middle East.

If 2013 was a year in which the profound deficiencies of America's Middle East strategy were on extended display, we expect that 2014 will be a year in which the effectiveness of Iranian strategy comes to the fore.  We are not optimistic that Obama and his team will get diplomacy with Iran "right."  Fundamentally, official Washington remains unwilling to accept the Islamic Republic as an enduring political entity representing legitimate national interests, and to incorporate such acceptance into U.S. policy on the nuclear issue, the Syrian conflict, and other Middle Eastern challenges.

But Iran's strategy does not depend on Washington getting things right.  Indeed, Iranian strategy takes seriously the very real (even likely) prospect that Washington is not capable of negotiating a nuclear settlement grounded in the Nuclear Non-Proliferation Treaty and respectful of the Islamic Republic's nuclear rights.  Likewise, Iranian strategy takes seriously the very real (even likely) prospect that Washington cannot disenthrall itself from Obama's extremely foolish declaration in August 2011 that Syrian President Bashar al-Assad must go—and therefore that the United States will not contribute constructively to the quest for a political settlement to the Syrian conflict.

If the United States can truly reform its approach to the Middle East, certainly Iran can work with that.  But if Washington continues down its counter-productive path in the region, Tehran can play off America's accumulating policy failures and the deepening illegitimacy of its regional posture to advance the Islamic Republic's strategic position.  We look forward to charting and analyzing the course of events in the Middle East, along with all of you, during 2014.

To round off our retrospective look at last year, we recall that, back in February 2013, our newly published book, Going to Tehran, served as the launch point for a Penn State Journal of Law and International Affairs symposium on "The U.S.-Iranian Relationship and the Future of International Order."  As a final gift from 2013, we want to share (see here) the issue of the Penn State Journal of Law and International Affairs, published in November 2013, presenting the penetrating papers that grew out of this symposium—by Dan Joyner, Richard Butler, Mary Ellen O'Connell, and Jim Houck, along with the two of us.
---