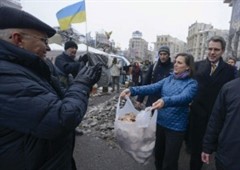 I find it very disquieting that so few among the West European and American commentators on the Ukraine crisis, private or public, seem concerned that the United States has started this affair, and that it is not inconceivable that it may end in a war.

Worse yet, Washington's demonization of Vladimir Putin has been so successful in the American press and public, and its secrecy about the American role in Kiev, has left the public in the United States and in NATO Europe convinced that this has all been the result of a Russian strategy of aggressive expansion into Ukraine, and not a bungled and essentially American attempt to annex Ukraine to NATO and the European Union, and to undermine the domestic political position of President Putin — which all has gone badly and dangerously wrong.

The Ukrainian coup d'état in February was prepared by Washington. Why else were the State Department official in charge of Europe and Eurasian Affairs, Victoria Nuland, together with officials of the European Union and a number of intelligence people present, in company with the "moderate" Ukrainians programmed to take over the government after the planned overthrow of the corrupt (but elected) President Viktor Yanukovych? Even President Obama, in Mexico for a "summit", was waiting to supply a video feed speeding the overthrown Mr. Yanukovych on his way, and congratulating the "democratic" victors.

But then, as the night wore on, things got out of hand. The riot police and the opposition forces went out of control. In a video made at the time, the American candidate for prime minister, Arseniy Yatsenyuk, said desperately, "Ukraine is in a big mess."

Even though the immediate mess was eventually sorted out, and Mr. Yatsenyuk ("Yats" to Secretary Nuland) was soon (briefly) the prime minister -- and immediately was welcomed to Washington to dine at the White House with the American president -- one must ask what was accomplished by all this that did not discredit the United States and the EU, and draw towards Ukraine and the American troops today deployed in Poland and the Baltics, and towards NATO itself, the storm-clouds of a useless war?
---