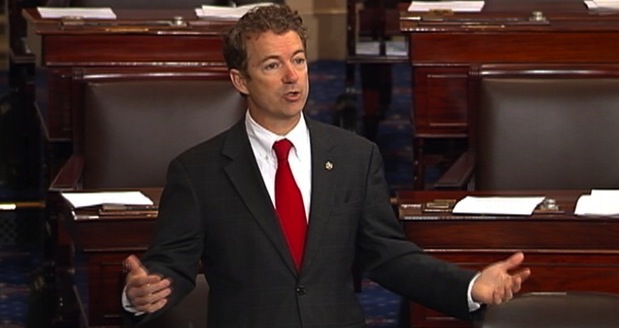 Sen. Rand Paul (R-KY) is expected to offer legislation as early as tomorrow (Wednesday) to force a Senate vote on President Trump's freshly-inked deal to sell $110 billion in US weapons to Saudi Arabia. Using the increased authority over the transfer of American-made weapons overseas granted Congress by the 1976 Arms Control Export Act, Senator Paul, according to an aide, will introduce a motion of disapproval regarding the sale. 

Sen. Paul was similarly opposed to a deal under President Obama to sell Saudi Arabia $1.15 billion in US weapons, joining with his Democrat colleague Sen. Patrick Murphy (D-CT) to introduce a similar measure last September. That effort failed, but Senator Paul appears undeterred. 

Paul has been critical of Saudi Arabia's war on neighboring Yemen and has been particularly sharp in his criticism of US backing for that brutal Saudi-initiated war. In a Senate Foreign Relations Committee Hearing early this year, Paul said:
The United States has the technical ability to kill anyone anywhere anytime. Yet just because we can doesn't mean we should, and I think we don't have enough discussion about the practical ramifications of whether or not we kill more terrorists than we create.

I think Yemen is a perfect example of this. We're supplying the Saudis with bombs, refueling the planes, picking the targets. I assume that we didn't pick the target of a funeral procession, but we wounded 500 people and 140 people — I say 'we;' the Saudis did it, but with our armaments. You think that Yemenis don't know where the bombs are coming from?
Back in 2015, Paul suggested Americans should boycott Saudi Arabia over its disregard for human rights. 

While Paul's move is unlikely to succeed on vote totals (his last attempt failed by 71-27 votes), the effort -- particularly if it is joined by a bipartisan group in the Senate -- will send an important signal to colleagues and to the American people on the dangers of being the world's largest weapons dealer.

Hopefully Senators will take advantage of the press interest such a move produces to draw attention to the dangerous consequences of selling US taxpayer-subsidized weapons -- built to defend this country -- to despotic countries overseas in unstable regions. How many US service members may be killed by US weapons fallen into the wrong hands in places like Syria and Iraq? What kind blowback might be ignited by Saudi genocide in Yemen made possible by US-made weapons? Do we want the families of innocent victims of Saudi wars to see "Made in America" on the weapons that killed their loved ones?



---