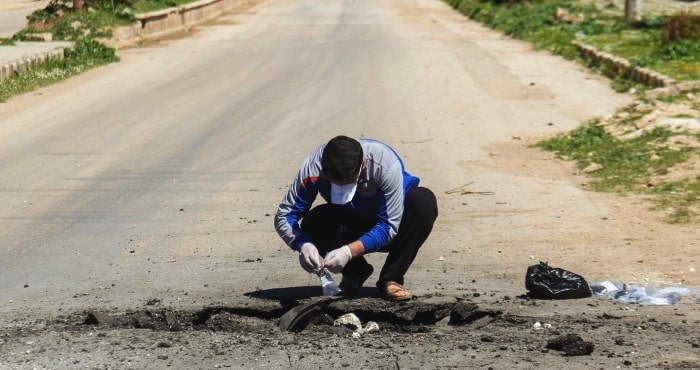 The deep irony of the tragic Syria war is that after seven years of massive bloodshed, as the government has emerged victorious, it is only now with relative stability and ensuing calm over most of the country that an "economic siege" has hit the population with full force.
Damascus even during some of the worst years of war was always a bustling traffic-packed economic center for its six million inhabitants, but as we noted previously the country has been plunged into a fuel crisis that is the result of new US-led oil sanctions targeting Damascus and Tehran. As one recent WSJ report put it, Iranian oil deliveries to Syria have "fallen off a cliff" since January.
"Lifeless" and "decimated economy" are words used to describe the Syrian capital city and home to Assad in a new Bloomberg piece (which appeared just as busy as most any global cosmopolitan center only months ago), as further "traffic is light" and "morale is down," according to the report.
"Waiting 19 hours for gas in a lifeless city" — the headlines read. The ongoing weeks-long crisis has now been made especially worse after the Trump administration this week ended embargo exemptions for eight countries allowed to purchase Iranian crude.
"Lines of cars stretching for miles wait hours to fill their tanks with the 20 liters of gasoline that Syrians in government-controlled areas are allowed every five days," Bloomberg describes. "The last shipment of oil from Iran, which was sending up to 3 million barrels a month, came in October before sanctions were resumed."
It was thought runaway inflation during the height of the war years would reverse course, but as one Damascus resident related:
'I thought once the war ended, our currency would become stronger and our living standards better,' said Saeed al-Khaldi, who transports vegetables across the sprawling city. Damascus's population has almost doubled since the war started, to over 6 million, as civilians fled violence in other regions. 'Instead, we're living from one crisis to the other.'
The WSJ reported last month that Iranian oil had been routinely delivered to Syria throughout most of the war, but now "US sanctions have cut off Iranian oil shipments to Syria, taking an unprecedented toll on a flow of crude that had persisted in the face of long-term international restrictions and helped sustain the Assad regime through years of civil war."
So why did Washington previously keep it flowing? Why cut off supplies now through increased sanctions? Simply put, Assad and his Iranian allies won the war.
And so long as there were US-Saudi supported "rebels" entrenched in Damascus' suburbs, such as Eastern Ghouta, and other pockets across the country, any targeting of Syrian oil imports at that time would have strangled not only the regime but America's proxies on the ground as well.
How would #Syria 's State have been able to avoid the latest sanctions on Petroleum Products?

By not going for the final "win" in April 2018 in Eastern Ghouta & other opposition held areas near Damascus.

OFAC prepared its directive & delivered it barely 6 months afterwards pic.twitter.com/XaeHrQodWV

— EHSANI2 (@EHSANI22) April 18, 2019

But now, as last year the final anti-Assad pockets of insurgents were rooted out by the Syrian Army, Washington is content to economically strangle the entire region.
One little acknowledged fact is that by United Nations figures, the majority of the displaced from the war are actually "internally displaced persons" (7 million IDP's based on past years' estimates by the UN High Commissioner for Refugees, or UNHCR), which means Washington's policy of economic strangulation is directly impacting every part of the population, whether pro-government or not.
The White House still fundamentally prioritizes weakening Syria as crucial in its ultimate goal of regime change in Tehran. In this sense, the "long war" for Syria could merely be in its middle phase.
Reprinted with permission from ZeroHedge.