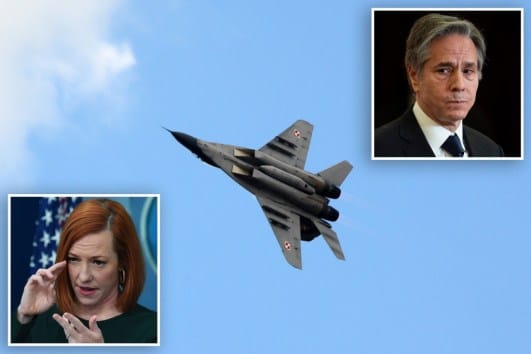 On Tuesday, Secretary of State Anthony Blinken told Face the Nation the US would "greenlight" Poland sending fighter jets to Ukraine. Later in the day, Pentagon spokesman John Kirby issued a statement indicating it would not allow Poland to use the US Ramstein AFB as the middleman for this transfer. However, Kirby also said, "the decision about whether to transfer Polish-owned planes to Ukraine is ultimately one for the Polish government."
Apparently, the Pentagon recognizes fighter jets sent to a hot war to benefit one side would be recognized as an act of war by the other. This is nothing new. See the Lusitania. But why the statement leaving it up to Poland to send the jets directly? Poland is a NATO member and any attack on a NATO member brings the United States into the war anyway.
What's going on here?
Nothing good for Poles who remember their history. In 1939, Poland was in a dispute with Nazi Germany over a city called "Danzig" at the time (it is now Gdansk). It's strategic significance on the Baltic coast is obvious and it had a long history of changing hands politically. However, it had been a part of the Kingdom of Prussia and subsequently the German Empire from 1793 until the end of World War I.
After regaining its independence at the end of the war, Poland wanted Danzig placed under Polish rule. However, as the city was majority ethnic Germans, the wise masters of the universe who imposed the disastrous Treaty of Versailles upon Germany made Danzig an independent city under the authority of the League of Nations.
The cartoon version of history most Americans learn says Hitler's invasion of Poland was just the first in his quest to conquer the whole world. It wasn't. Danzig was merely a strategic point on the map in the foreign policy plan he clearly laid out in Mein Kampf:
"We put an end to the perpetual Germanic march towards the South and West of Europe and turn our eyes towards the lands of the East. We finally put a stop to the colonial and trade policy of pre-War times and pass over to the territorial policy of the future.
But when we speak of new territory in Europe to-day we must principally think of Russia and the border States subject to her."
By Hitler's reasoning, communism was just part of the "Jewish conspiracy" and since Russia had become communist, "Fate robbed the Russian people of that intellectual class which had once created the Russian State and were the guarantee of its existence." And since Germany needed land to become the first-tier power Hitler believed it must become to survive, it was entitled to carve this new territory out of the USSR, including Ukraine.
Was any of this justified? Of course not. But here is the connection to yesterday's news. Poland had a choice to make: stand firm on keeping Danzig out of Hitler's hands or make a deal with Hitler and allow him to proceed east towards his true objective: conquest of Ukraine and other Soviet territory. This was not a choice between good and bad. It was a choice between two bad alternatives. Giving up Danzig strengthened the evil Nazi regime. Standing firm would lead to a war Poland could not win.
It was here that the dominant global empire of that time, England, stepped in. It issued a war guarantee to Poland should Hitler invade that England could not and did not keep. This strengthened Poland's resolve to deny Hitler Danzig.
As conservative author Pat Buchanan documents in his book, Churchill, Hitler, and "The Unnecessary War": How Britain Lost Its Empire and the West Lost the World, Hitler did not want a war with England. Once learning of England's war guarantee, he postponed his invasion of Poland to try to negotiate. It was only after those negotiations were unsuccessful that Hitler went ahead with his invasion, leading to war against the allies.
This isn't "apologizing" for Hitler or diminishing Hitler's atrocities, as Buchanan's critics claim. It is simply a fact that Hitler did not want war with Western or Southern Europe, as he stated clearly in his own book.
Sometimes reality has no room for moralizing. When Hitler invaded Poland, England reneged on its war guarantee, as Poland should have known it would. England had disarmed itself after WWI, as had most of the Allied powers. Poland spent the next fifty-two years in darkness, occupied first by the Nazis and then the communists. Had they allowed Danzig to rejoin Germany, WWII may have been a fight to the death exclusively between Hitler and Stalin, resulting in both evil regimes being destroyed.
Is Poland facing a similar choice today? Why is the US government telling Poland it is free to provide fighter jets to Ukraine, as long as they do not involve the US government in doing so? If the US were planning to honor its NATO commitment, it wouldn't really matter whether those jets went directly to Ukraine or via a US military base. Either scenario leads to a US war with Russia should Russia retaliate against the sender.
Unless the US plans to renege on its war guarantee in 2022 just as England did in 1939.
Until he invaded Ukraine, Vladimir Putin had been the world leader who showed the most restraint during this century. He had sucked up color revolutions run by the US in Georgia and Ukraine in 2004 and Syria and Ukraine in 2012-14. Syria and Ukraine are both home to vital Russian warm water ports, while the revolutions in Georgia and Ukraine sought to install hostile governments on his border that would host NATO troops and missiles.
This in addition to constant demonization as a meddler in US elections by the most prolific foreign election meddler in human history.
February 24, 2022 may have marked the end of Putin's restraint period. Let's hope not. If Polish military aircraft end up in Ukraine, it will only be restraint on Putin's part that prevents a NATO country from being dragged into the war. Then, it will be a matter of whether Washington commits much of the Western World to possible nuclear annihilation or leaves Poland high and dry as England once did.
There was no good answer to Hitler in 1939. But there were plenty of strategically better ways to handle him than the one chosen, which was arguably the worst. Faced with a choice between leaving the USSR to fight Nazi Germany alone or allying with the Soviets to defeat him, hindsight says the former choice would have been better.
It was prevented by English government officials blustering about a moral duty to defend a country they could not and did not defend anyway. Does that sound familiar?
Poland should know better than to trust the current world empire.
Tom Mullen is the author of It's the Fed, Stupid and Where Do Conservatives and Liberals Come From? And What Ever Happened to Life, Liberty, and the Pursuit of Happiness?
Reprinted with permission from  Tom Mullen Talks Freedom