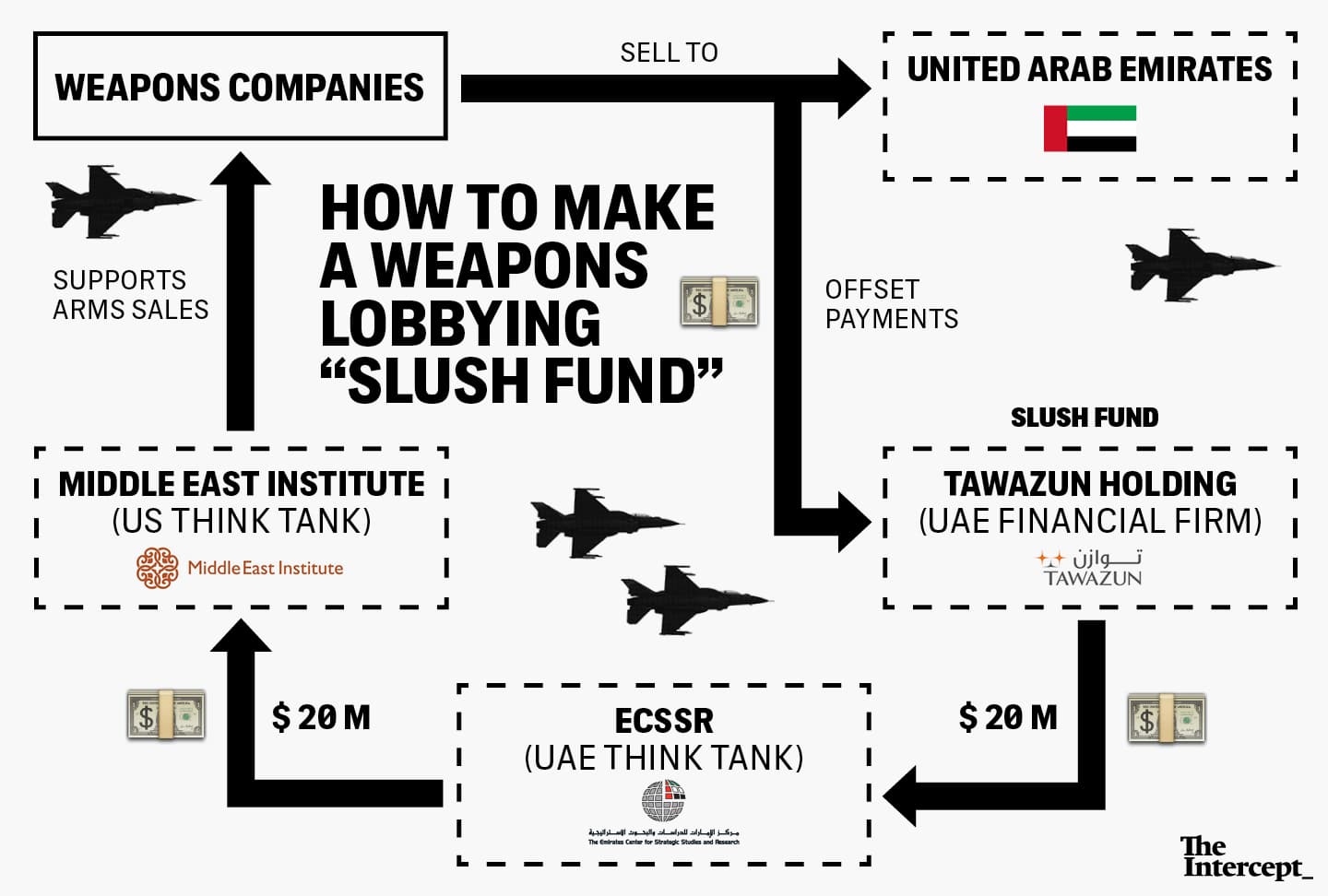 The United Arab Emirates created a "slush fund" using money meant for domestic economic development projects and funneled it to a high-profile think tank in the United States, emails obtained by The Intercept show.
Last week, The Intercept reported that the UAE gave a $20 million grant to the Middle East Institute, flooding a well-regarded D.C. think tank with a monetary grant larger than its annual budget. According to an email from Richard Clarke, MEI's chairman of the board, the UAE got the money from offset investments — development investments by international companies that are made as part of trade agreements.
The idea behind offset agreements is simple: When a country buys weapons from a firm overseas, it pumps a large amount of money out of its economy, instead of investing in its own defense industry or in other domestic projects. So to make large weapons deals more attractive, arms companies offer programs to "offset" that effect. As part of a weapons package, they often sign an agreement to invest in the country's economy, either in defense or civilian sectors.
Offsets provide a way to sell weapons at inflated prices, when companies offer juicier offset packages. Critics say the lack of transparency in how offset investments are carried out leaves a window open for a form of legalized corruption. The emails lift a veil on what has long been an obscure element of the arms trade.
According to an email from Clarke, the UAE accepted unpaid offset obligations as cash payments to a large financial firm called Tawazun Holding. Tawazun sent the $20 million to a UAE think tank called the Emirates Center for Strategic Studies and Research. ECSSR then began sending that money to the Middle East Institute, a prestigious D.C. think tank that has a history of promoting arms sales to Gulf dictatorships. …
So essentially, in a roundabout way, the UAE took money from international firms that was meant for economic development and funneled it to a supportive think tank in the United States.
Fair use excerpt. Full article here.