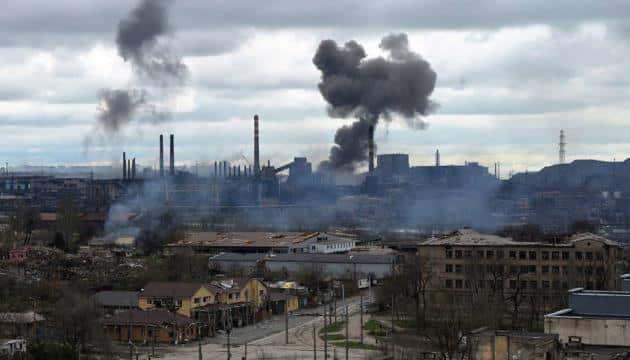 Russian and Donbas forces have cleared the city of Mariupol except for the giant metallurgic complex of Azovstal which is held by some estimated 4,000 men, including many from the fascist Azov battalion.
On Sunday Russia opened corridors across the front line and asked for those forces to surrender. However the Zelensky government ordered them to stay and to continue to bind Russian forces which otherwise could be used elsewhere:
Russia had given the Ukrainian fighters in Mariupol until Sunday morning to lay down their weapons or be "eliminated." On Sunday, the forces at the plant ignored the deadline, and Ukrainian officials vowed that they would not surrender. In response, the Russian assault intensified, with missiles and bombs hitting the city and new attacks occurring near the plant, according to the Ukrainian military.
…
Ukrainian officials said on Sunday that the struggle was not over for Mariupol, which for two months has tied up Russian troops and resources that are badly needed elsewhere.
The Azovstal complex is a 2 by 2 miles industrial area. It can be surrounded and controlled by a relatively small force. Those within the area no longer have heavy artillery ammunition and presumably little other supplies. The Russian forces can see and bomb anything that moves on the open ground and can otherwise sit back and wait their enemies out.
I do not believe that holding on to Azovstal will significantly delay the upcoming second phase of the Russian operation which will surround and destroy the Ukrainian army on the Donbas front.
The Russian military has two huge advantage over the Ukrainian forces in the east. One is of course its air superiority. The other is the unimpeded supply line which allows it to get as much heavy artillery ammunition, fuel and food to its forces as it needs.
Without fuel the Ukrainian army can not move and without constant supply, especially of large amounts of artillery munitions, it can not counter Russian artillery which will be in heavy use against it.
This pictures of a former Ukrainian position show the devastating result of such a situation.
Nearly all of the Ukrainian ammunition and fuel supplies have been bombed and destroyed. What is trickling in through its western borders has difficulties to reach the eastern front and is anyway not enough to supply an actively fighting and maneuvering army.
On April 16 Russia shot down a Ukrainian military transport plane that was bringing 'western' weapons to Odessa. Today it destroyed another ammunition depot near Lviv were 'western' weapons are crossing the border into Ukraine. Some bits of fuel allegedly still reach the Ukraine through trains from Moldova. But that is far from enough.
Here is a week old report on the fuel situation:
Since the beginning of the war, the number of gas stations in Ukraine has decreased three times, and private fuel consumption has decreased by about the same amount, said Sergey Kuyun, director of the A-95 consulting group.

"According to our estimates, a third of the total number of gas stations is operating, this is about 2.5 thousand stations, before the war there were 7.5 thousand. Of course, the main reason is the lack of fuel. Consumption has also decreased three times compared to the pre-war level," he said at a closed briefing at the Media Center in Lviv on Monday.

At the same time, Kuyun noted that traders or network owners are forced to provide their most strategic and powerful facilities, located mainly in regional centers or on main routes, while peripheral stations are forced to stand idle, although there are also a lot of consumers there.

According to him, the shortage of fuel became especially aggravated after the shutdown of the Kremenchug Oil Refinery as a result of a missile attack by Russian invaders.
…
On April 2, the Russian invaders destroyed the infrastructure of the Kremenchug oil refinery with their shelling, and it stopped working.
The damage done daily to the Ukrainian military and military industry is huge. One can get a sense of it when one reads through the briefings of the Russian defense ministry. From today's morning brief (here in full as some have difficulties accessing the site):
The Armed Forces of the Russian Federation continue the special military operation in Ukraine.

High-precision air-based missiles destroyed 16 military assets of Ukrainian overnight.

Among them: 5 enemy command posts, 1 fuel storage facility, 3 ammunition depots, as well as military personnel and equipment concentrated in Barvenkovo, Gulyai Pole, Kamyshevakha, Zelenoe Pole, Velikomikhailovka and Nikolaev.

Operational-tactical aviation hit 108 areas of concentration of Ukrainian manpower and military equipment.

In addition, 1 Ukrainian unmanned aerial vehicle was shot down by an air-to-air missile near Buda.

Army aviation destroyed 8 tanks and other armoured fighting vehicles, as well as up to a company of enemy manpower near Pashkovo, Veseloe and Illichevka.

Missile troops struck with high-precision Iskander land-based missiles. 4 arms depots and Ukrainian military equipment were destroyed, as well as 3 areas enemy manpower concentration near Popasnaya, Yampol and Kramotorsk.

Russian artillery units hit 315 Ukrainian assets overnight.

18 command posts, 22 artillery batteries, 1 OSA-AKM anti-aircraft missile system, as well as 275 enemy strong points and areas of concentration of enemy manpower were hit.

Russian air defence means shot down 3 Ukrainian combat aircraft in the air: 2 MiG-29 fighters near Izyum and 1 Su-25 near Avdeevka.

11 Ukrainian unmanned aerial vehicles were also shot down in the air near Klimovo, Nevelskoe, Novotroitskoe, Izyum, Panteleimonovka, Sladkovodnoe and Yasnoe. 10 large-calibre rockets fired by Ukrainian multiple rocket launchers at Chernobaevka were intercepted.

In total, 139 aircraft, 483 unmanned aerial vehicles, 250 anti-aircraft missile systems, 2,326 tanks and other armored combat vehicles, 254 multiple launch rocket systems, 1,004 field artillery and mortars, as well as 2,184 units of special military vehicles of the Armed Forces of Ukraine were destroyed during the operation.
This has now been going on daily for more than a month. While the precision of the above numbers is somewhat uncertain I do not think that they are exaggerated by much. Yesterday there was no particular heavy fighting and the equipment destroyed on that one day alone was already more than what the US has in total promised to send.
That means that the military destruction and defeat of the Ukrainian forces in the country's east is all but assured.
What then is the strategy that government in Kiev and its overlords in Washington DC are following? Why has the Ukraine not given up? Why didn't it continue to negotiate with the Russian side?
Is their hope that their daily over the top 'Russia is losing' propaganda will create enough political momentum for a large scale NATO intervention?
That would end in a disaster for the NATO forces.
Russia is obviously prepared for it. It has so far held back large parts of its own forces. Russia has at least 12 tactical missile artillery brigades, each with 36 Iskander missile launchers and 144 fire ready missiles. Only three of the those brigades plus a third of two other ones have so far been committed:
Three brigades, or a total of 36 Iskander launchers (two missiles each plus two resupply missiles per launcher) were deployed to Belarus as part of the buildup to war in Ukraine. Two additional brigades (12 launchers) were also assigned to Russia's Southern Military District and moved forward in the area of Belgorod near the Russian border; and to the area of Krasnodar, south of Ukraine.
Most of the Russian airforce has likewise been held back.
On March 24 the Pentagon claimed that Russia was running out of precision munitions. However, if the Russian defense ministry report is correct, at least 16 precision air ground missiles and 7 Iskander were used just yesterday. To me that does not sound like 'limited supplies'.
Other issues:
Since Saturday Gonzalo Lira, who has been reported from Kharkov, is no longer reachable. He seems to have been captured or killed by the Ukrainian Gestapo-like SBU. Sadly I had expected that. Doing hours of Youtube live streams when your enemy controls the internet in your area is not very smart.
A picture of the damaged Russian cruiser Moscwa was published today.
The Russian cruiser was damaged last week and sunk. The ship is listing and so it must have additional damage below its waterline. The picture shows fire midships on its port side where two of its close-in weapons systems and their ammunition storages are. The ships crane is deployed right above that area. The large anti-ship missiles towards the bow and the S-300 air defense launchers behind the deckhouse seem intact. The port side life rafts are no longer where they were and must have been launched. That means that a significant part of the crew likely got off the ship alive before it sank.
The picture does not tell us what has happened. Was this an accidental ammunition explosion as Russia had first claimed or was the ship hit by Ukrainian (or British?) anti-ship missiles as the Ukraine is claiming? We will have to wait for further reports to know that.
Reprinted with permission from Moon of Alabama.