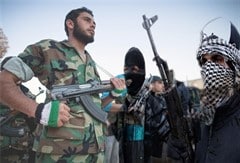 In his address to the nation outlining his strategy to defeat ISIS last week, President Obama made three important points regarding Syria:
1) He would not hesitate to bomb ISIS on Syrian territory even without permission from Syria, a UN resolution, or Congressional authorization.
2) He would not coordinate his attacks on Syrian territory with the Syrian government because, as the State Department claimed, that government has no legitimacy.
And, most importantly:
3) He vowed to increase US support for the "moderate" rebels in Syria, which have been fighting, with US backing, to overthrow the Syrian government for three years.
Said Obama:
Across the border, in Syria, we have ramped up our military assistance to the Syrian opposition. Tonight, I call on Congress again to give us additional authorities and resources to train and equip these fighters. In the fight against ISIL, we cannot rely on an Assad regime that terrorizes its own people — a regime that will never regain the legitimacy it has lost.
This, certainly not by accident, creates the false impression that ISIS and the Assad government in Syria are on the same side and that only the "moderate" rebels in Syria can defeat both ISIS and Assad.
In fact, the "moderates" supported by the US have long fought alongside al-Qaeda affiliates and, later, ISIS fighters. And Assad has been engaged in an all-out battle against ISIS for years.
The fantasy of Obama's plan to fund, arm, and train the "moderates" in Syria to be the leading edge in the US war on ISIS was completely laid bare just days after his speech, as the Syrian "moderates" signed a non-aggression pact with ISIS at a meeting just outside Damascus.
They agreed they would not fight each other until they defeat the Assad government, which, strangely enough, is the US goal as well.